Age of Wonders 3 Review
An addictive grind as you lead your fantasy empire to victory
Magical armies under my command readied for battle as they trekked into enemy territory. These armies were reinforced from previous encounters with monsters and men. Army leaders wielded powerful spells that forced enemies to stand together or face certain defeat. Additional units, produced by sprawling cities within my domain, bolstered the front line and patched defensive holes in my growing empire. The opposing enemy army, who had promised my demise on turn three, perished in a tactical battle after three hours of strategic exploration. This first mission would prove indicative of the enthralling adventures found within Age of Wonders 3.
Fifteen years ago the strategy genre held a commanding position in the PC games industry. Strategy titles were abundant; both real-time and turn-based games competed strongly and held popularity that rivalled shooters. Times have changed and a newer audience has brought a reduction in big-budget strategy releases to just a few per year. Devoted strategy gamers now seek products from independent studios to quench their tactical tastebuds. It is fitting then that Age of Wonders 3 was developed largely because of Minecraft, one of the most popular independent games ever made. It is unclear what monetary figure Notch (Markus Persson) put towards this title, but it was worth every cent.
Age of Wonders 3 is a comprehensive and addicting sequel by experienced developers Triumph Studios. It is a faithful recreation of the base mechanics seen in the original Age of Wonders, released in 1999 by the same developers, but has all the trappings of a big-budget release. It harks back to the days when it was normal for games to consume hours of your time without relying on cheap tricks or collectibles. It is a game that succeeds largely because of compelling player control, exciting tactical battles, exceptional art-design and wonderful exploration. Players create armies, forge alliances, build cities, explore ruins and expand their empire one turn at a time.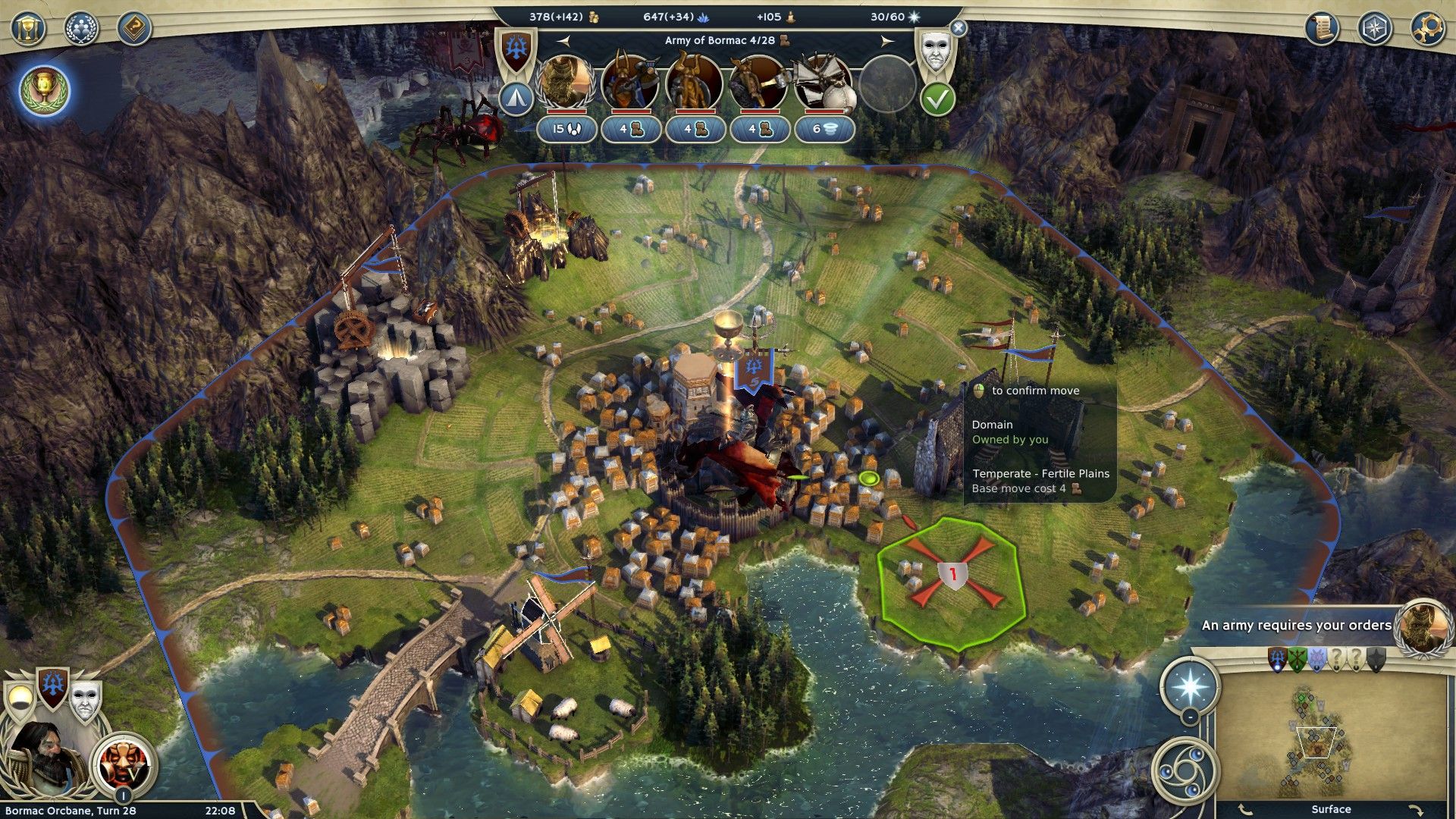 The world map is where you begin empire management
Every match in Age of Wonders 3 begins on the world map, or strategic map, and from it you command armies, track resources and manage strongholds. The map is formed from a hidden hex grid that consists of a terrain type which determines how far your armies can move; roads allow grounded units to travel further than jagged mountains. Armies on the world map are formed of up to six units, from mythical to mechanical, and strong armies might be led by heroes. Heroes are unique units that cast spells and grant buffs to solders under their command. Each hero belongs to a class, such as a Rogue or Dreadnaught, which determines their magic powers and class-specific units. The typical goal for each match is the eradication of the enemy leader(s) and this usually requires domination of the world map.
Exploration is vital before the victory flag is raised, for you cannot destroy an enemy unless you know where they are. As you move your armies across the gorgeous landscapes they stumble across tombs, independent units and resource nodes. Uncovering the unknown is rewarding, but you also find gold, equipment or knowledge that can increase your productivity. Independent armies often defend resource nodes, so they must be defeated before you reap the rewards. You can ask independent cities to join your empire if you have the coin, or perform a quest to absorb them into your dominion. Exploring the world efficiently will help the continual growth of your empire and provide consistent enjoyment each turn.
Managing your domain is all about tracking resources and maintaining a healthy production line within cities. When the population of a city increases, its borders expand and you begin to earn income from any resource nodes it absorbs. You can create your own cities to gain all the resources within its newly-formed borders, but this costs money, time and an army to protect its construction. Cities also expand their borders by purchasing structure upgrades, one of which is a stone wall that will also help to defend against incursions. All information pertaining to empire management is easily accessible and understandable, minimizing obstacles as you command your empire. After humble beginnings, the gradual expansion of your empire is perhaps the most empowering aspect of the game.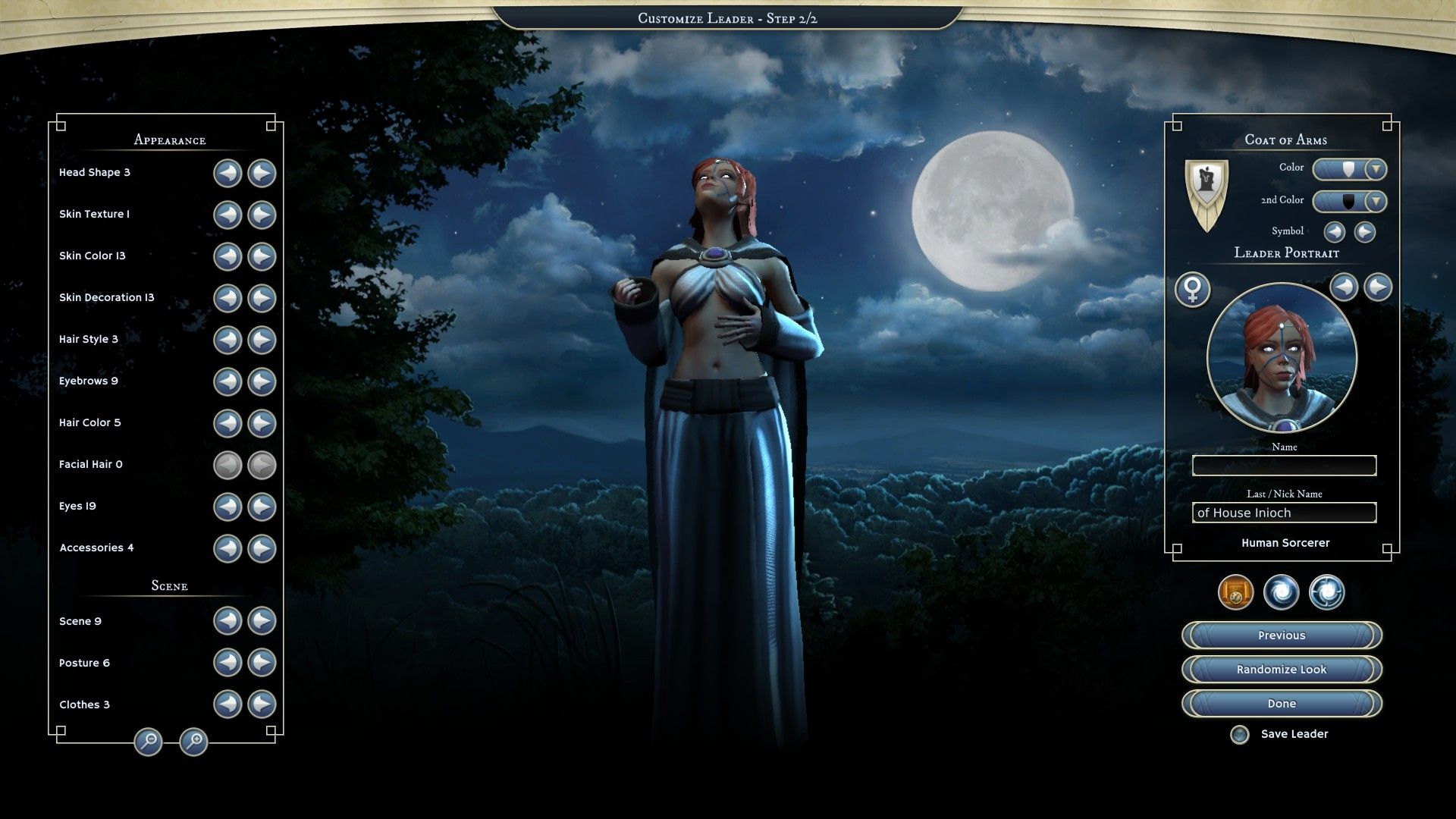 You can create your own leader for random maps or multiplayer battles
The leader of your empire, who is also a controllable hero, is able to research and deploy global spells. Researching spells requires multiple turns and the knowledge resource, but the spells can shift the balance of power with a single click. Researching spells is randomized, aside from key spells, and some are underwhelming stopgaps to the game-changers. The critical spells might allow you to transform the land or you cast devastating spells that damages the health of opposition armies before you engage them. The range of spells and the random research progression brings an element of uncertainty in every match. The research choices will influence the direction of your empire.
Playing Age of Wonders 3 is about making numerous small decisions while preparing for larger goals. The first of those is which direction to explore. You could summon a scouting unit now, or save your spell points for a tricky battle. Another choice involves the preparation of your city, which is related to resource nodes you hold. Without a shrine, your mana income might not be high enough to produce the class-specific units. In almost all cases there is risk and reward element which needs to be evaluated, so this makes it compelling to be thorough with each successive turn. Towards the end of matches, you will be managing dozens of armies and just as many cities. Keeping track of it all requires some serious concentration but you are not constrained by time. Even on the same map, featuring the same enemy armies, there are hundreds of different outcomes based on exploration, spells and city upgrades.
Comments
blog comments powered by Disqus