2014 FIFA World Cup Brazil Review
Bring the World Cup home
With the biggest sporting event of the year nearly upon us, EA Sports has once again taken advantage of its general licensing agreements with FIFA to bring fans the official game of the 2014 FIFA World Cup Brazil. Much like the previous games that are centered around the big football event, this World Cup game offers a rebranding of the latest EA FIFA title (this being FIFA 14) with updated presentation, gameplay modes, and an exclusive focus on the international competition. It's a solid experience throughout, but one that comes up short in value for a full priced product.
Fans wishing to get right into the big tournament can do so, or try their hand at the challenging Story of Qualifying mode, but the core single player experience lies with Captain Your Country and Road to the FIFA World Cup. These two modes are of course strikingly familiar to the career offerings of FIFA 14, whereas players control one footballer in the former mode and look after the whole squad in the latter.
The Road to WC mode is a simplified version of the manager experience, whereas you can select any of the nations in the game and play through their real qualifying campaign (or a randomized one, if you so prefer). It's a decently lengthy endeavor depending on the nation you select, but it lacks the depth of the usual managerial mode as you're always playing with the same squad and your tasks are limited compared to club football. It's also a mode that lacks longevity – after finishing your campaign, and hopefully qualifying / playing through the Brazil tournament, the mode ends and you can only select another nation and start over.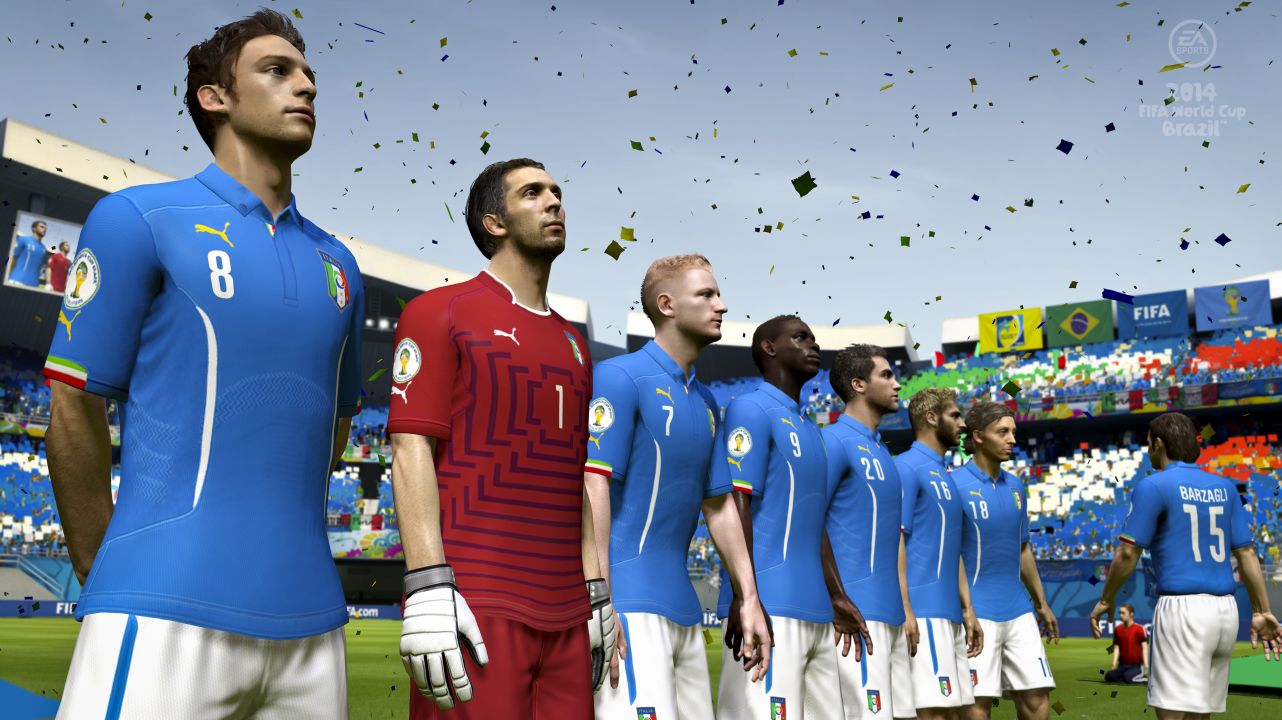 In Captain Your Country, players assume the role of an existing or created footballer and attempt to break into the starting lineup of their nation. This mode similarly offers your choice of nation to join, and play through their qualifying campaign controlling just your player. The unique feature here is that you start at the bottom of a list of national players, and through your performances must rise through the ranks in order to be selected for the international squad, or in fact become the captain. It's an interesting idea, but the execution is lacking. Your rank updates after each match are sporadic and seemingly random at times, as putting in a performance of a lifetime may raise you the same amount of ranks as a mediocre outing. The game provides little feedback as to what positively or negatively impacts your standing. There's also a competitor system, as you're apparently trying to outperform other squad players, but that just leads to you hogging the ball and ensuring their performances are poor for your player's own benefit.
Like the daily and weekly challenges in FIFA 14, Story of Qualifying mode offers a large number of exciting scenarios from across the qualifying campaigns of various regions. Players are challenged to match or beat these feats from the past few years of international football. It's a fun and lengthy mode, perfect for quick scenario-based action. A similar mode called Story of Finals is also offered, but it is locked until the start of the actual tournament in June.
Beating these Story mode challenges nets players EA Sports Football Club points, which can be redeemed for celebrations and other unlocks. Player profiles carry over from other FIFA games, of course. FIFA WC Brazil also features many of the same Skill Games, now further integrated into the two main single player career modes, as they actually help player attributes grow if you complete them.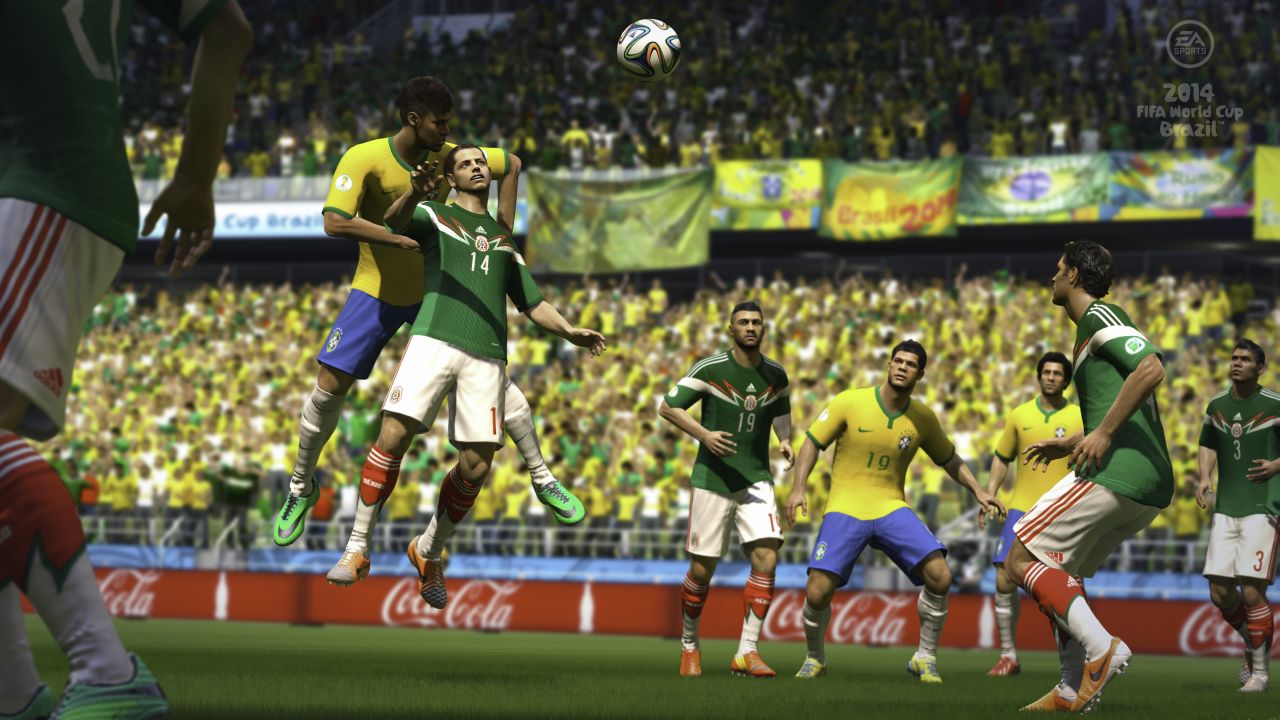 Online modes have similarly been tweaked, but hardly attempt to hide the fact that they also exist in FIFA 14. Road to Rio de Janeiro is a head-to-head multiplayer mode, where players must battle online and earn points. Earn enough points within a limited amount of matches, and you advance to the next city, eventually making your way through the cities (tiers) on the way to Rio. Perform poorly, and you are relegated back to the previous location. Fans will recognize that this is just the Seasons mode, with a different coat of paint to make it more authentic and fit the theme of the World Cup. Other multiplayer options include the obvious head-to-head matches and an online FIFA World Cup tournament. The depth and longevity of FIFA Ultimate Team is missed here. We've had the game crash itself and sometimes the whole console as well a few times, during menu navigation.
On the pitch, you'd be hard pressed to cite glaring differences between FIFA WC Brazil and FIFA 14. This is still a smooth and responsive game of footy, but there are no game-changing features to entice owners of FIFA 14 to take the leap. Moment to moment gameplay is largely unchanged, though you can now taunt players during penalties and headers have been re-worked to provide more challenge. During set pieces, a new quick menu allows players to execute tactical maneuvers, an addition that we're likely to see in future games. One negative change has to be the off-sides, which now occur frequently and even against players who aren't even involved in the play. As well, if you've already moved on to the Ignite Engine and next-generation versions of FIFA 14, stepping back into this old engine will not be pleasant.
The commentary in the game has been updated to reflect on the qualifying campaigns of various teams as well as results of past championships, including the Euros. The biggest change however comes in the form of EA Sports Talk Radio, a new offering for the single player career modes. Choosing either Andy Goldstein and Ian Darke, or Michael Davies and Roger Bennett (Men in Blazers), fans can listen to their banter and general chatter whenever you're navigating the menus or playing through Skill Games training. It definitely adds a new level of immersion to the game, though after a while it does become repetitive as the same discussions take place. Soundtrack is again a highlight, though it is not as varied as usual, opting for the safety of generic upbeat songs from across the globe.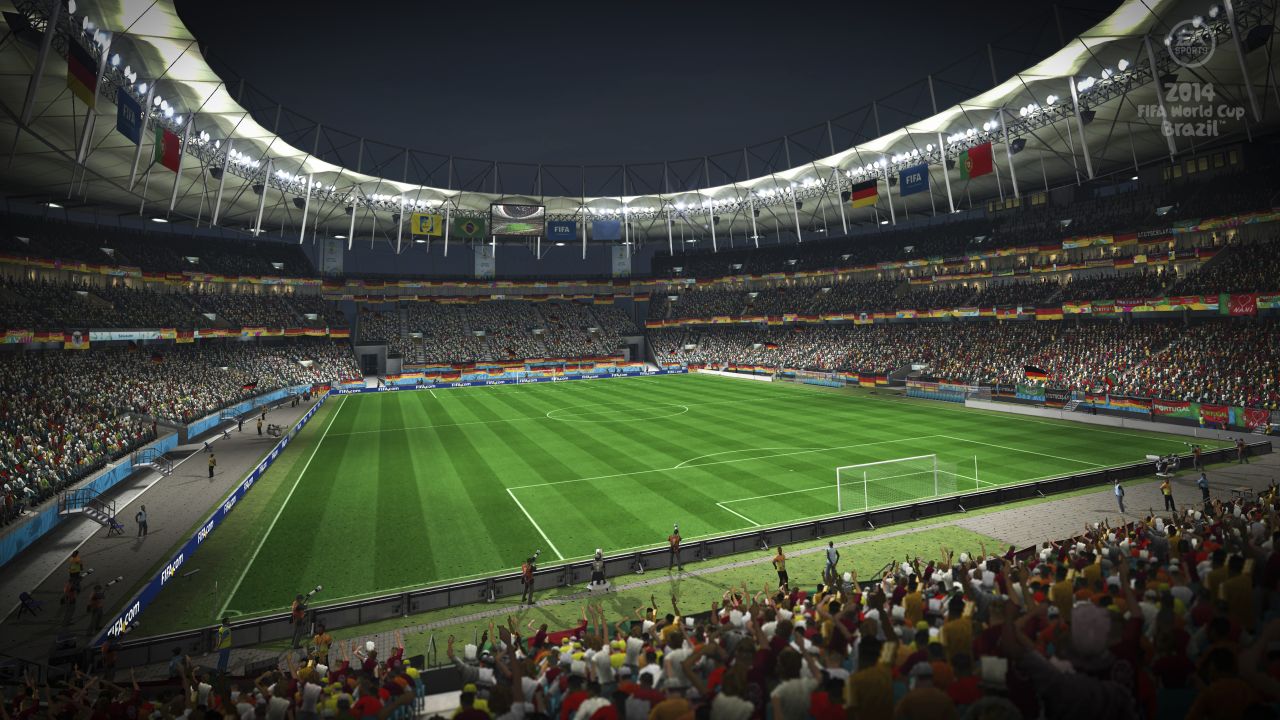 As expected of an EA Sports title, authenticity takes center stage. The game offers over 200 international teams with 7000+ players, plus 19 managers whose likenesses have been recreated. There are 21 new stadiums, including the 12 from the actual Brazil tournament, helping the game avoid environment repetition that sometimes persists in club football and in past FIFA titles.
All of the game's menus have been rebranded with official World Cup logos and a heavy dominance of the color yellow, but still function much the same as in FIFA 14. The new stadiums feature fans and flags of the various international countries, as well as many shots of select 3D crowd participants. It's the same idea that was used back in the 2010 World Cup game by the developers. Not much has changed since that game, sadly, as these audience members still look inhuman and often move in odd ways, perhaps after having consumed too much of the local alcohol. They over-react to every event, from the opening faceoff, to a scored goal, to a victory for their team. There are also occasional generic shots of outdoor locations, as fans on the street watch the match on a big screen. Finally, and perhaps disappointingly, the World Cup winning presentation feels subdued and brief, hardly letting players rejoice in the moment before hurrying them back to the menus. It's also generic every time, offering no insight into the team or individuality of their path to the finals.
One of the most important questions that many fans may be asking themselves is whether or not 2014 FIFA World Cup Brazil is worth picking up for those who have sunk their fair share of hours into this year's FIFA 14. The answer to that is likely a no. As a full priced game, FIFA WC Brazil doesn't offer nearly as much content as the full FIFA experience, and a few rebranded modes and tweaked presentation elements will not sway series veterans. All others will likely be pleased by the authenticity of the presentation and solid gameplay on offer, not to mention the fever pitch level of hype for the big event itself as we approach June. So if you've not picked up a FIFA game last Fall, 2014 World Cup Brazil will do nicely for casual fans preparing for the summer tournament.
Our ratings for
2014 FIFA World Cup Brazil
on PlayStation 3 out of 100 (
Ratings FAQ
)
Comments