Mario & Sonic at Sochi 2014 Review
A cold spell
It still seems strange to me when I see a game box with 'Mario and Sonic' written on it, like something from a dream – or a nightmare – or even from the overexcited pages of some awful fan fiction. But this is the fourth time the odd couple have paired up in the name of sports' greatest competition, so I guess I better get over it. Here we are then with Mario and Sonic at the Sochi 2014 Olympic Winter Games. Phew.
So as the rather long title suggests, it's the winter variety of the Olympics again and, just like in the real world, it's hosted in Sochi, Russia. Ignoring all of the political problems and issues going on in that part of the world at the moment, Mario and Sonic are simply happy to entertain with a more colourful, glossy and often fantastical version of the real programme of Sochi 2014. Of course there are many events that are based on the real deal, ranging from snowboarding, skiing, ice honkey and curling – all of which are serviceable – but it's the new Dream Events, made up games with a Mario or Sonic twist, that make this package more exciting than previous entries in the series.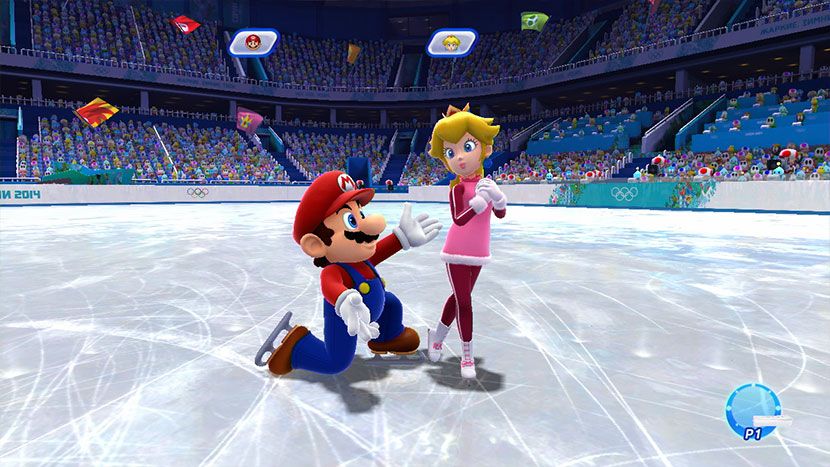 Take the Winter Sports Champion race for example. A fast paced, Mario Kart style event – of which there are many – where, at gates dotted throughout the course, you change your mode of transport, including skis, snowboards, ice skates and a bobsleigh. The track is littered with different paths, each best fit for one of the different vehicles you might be using. Then there's Hole-in-One Curling, where one character sits atop a giant stone whilst the other hoofs it towards the flag on a golf course. Or Figure Skating Spectacular, where a wintry competition soon becomes an assault on Bowser's Castle. They're fun and bizarre, but two things hold them back, and unfortunately they're the same two things that hold back most of the game in general: the fact that you're forced to play using motion controls, and that there is often only one course or variant per event.
These are very real, big problems that plagued my time with Mario and Sonic. So much is gotten right; the tone, the fan service, the range of events and the 'idea' of fun, lavishly painted over everything in Technicolor. But often that's all it is, an idea. The motion controls brought about during the series' Wii years, work all right for the most part, but when you're playing on the gamepad and realize that turning your snowboard is rather cumbersome and aren't given the option for traditional controls, you'll begin to see what I'm talking about. The fact that button controls weren't added as an alternative is frankly madness, and could potentially have really turned this game around. Because, as previously mentioned, many of the events, particularly the more fantastical ones, could really be quite fun with normal, more precise controls and some buddies round to thrash in multiplayer, but alas it was not to be.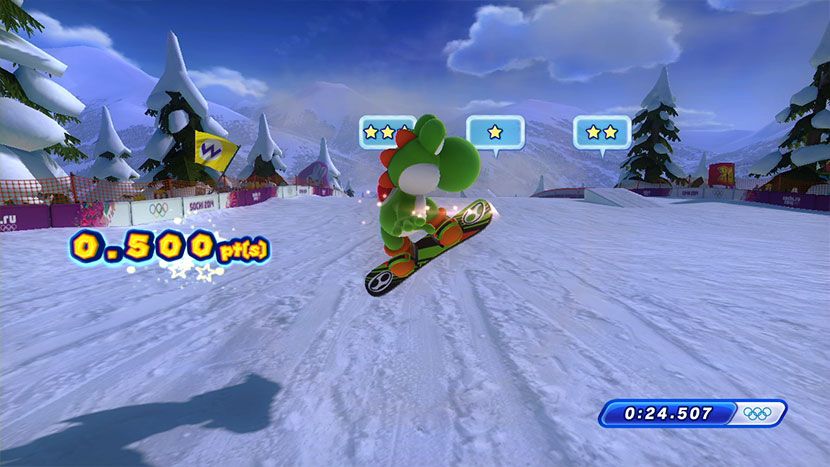 The other major let down is that even on the more entertaining events, there is often only one course to try them out on. I found this astounding. Some of the race sports – particularly those in the Dream Events – are actually pretty good, such as the Groove Pipe Snowboard that riffs on a Mario Kart level from Double Dash or Bullet Bill Sledge Race which does exactly what it says on the tin. But when you can only play them on the same level again and again, the charm soon wears thin.
Fortunately the multiplayer can still be a laugh, but more in a 'isn't it hilarious how bad this game plays?' kind of way. There is an online component as well, but bafflingly only a few events are given the global treatment for apparently no reason whatsoever. It just comes across as lazy. Add in the fact that many events are designed to be played with Wii motion plus (and sometimes a nunchuck too) – controllers not bundled with the Wii U – and the list of problems becomes too long to simply shake off.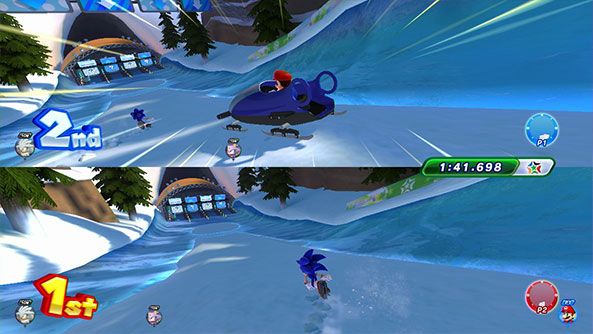 I did enjoy the Action and Answer game show, a Mario Party-style distraction that intersperses events, questions and points in an interesting way, but again, because of the lack of maps per sport, you're not going to want to come back after having played it a couple of times.
And sadly, that about sums it up. Even the most interesting of games such as Curling, which actually involves the gamepad in a meaningful way by letting you plan your strategy on the touchscreen before taking your shots, or Ice Hockey, which is surprisingly fun and nuanced (and the only sport with traditional controls) become stale after just a few games. It's fun for an evening or two's entertainment, then, particularly with a group of friends over, but is that really a good endorsement? If this was a review for renting, I'd say give it a shot if you're interested, but I'd probably have to say steer clear from buying it. Unless waggle and fan service is absolutely your thing.
Our ratings for
Mario & Sonic at Sochi 2014
on Wii U out of 100 (
Ratings FAQ
)
Comments
blog comments powered by Disqus