FIFA 13 first details announced
Second generation of the Player Impact Engine and more in the next footy game
Posted by Alex 'SpectralShock' V on May 15, 2012 - 11:35am EST (May 15, 2012 11:35)
---
Electronic Arts today unveiled five innovations that will bring changes to FIFA Soccer 13 along with the deepest feature set in the history of the franchise.

"We are perfecting the best sports game in the world with innovations that capture all the drama and unpredictability of the real-world game," said David Rutter, Executive Producer for FIFA 13. "These are game-changing innovations that will revolutionize our artificial intelligence, dribbling, ball control and collisions to create a true battle for possession across the entire pitch, and deliver freedom and creativity in attack."

All-new Attacking Intelligence enables players to analyze space, work harder and smarter to break down defenses, and think two plays ahead. Players now possess the intelligence to create, curve, or alter runs to capitalize on openings as they occur, make runs that pull defenders out of position to open passing channels for teammates, and better position themselves for new attacking opportunities.

Inspired by Lionel Messi, Complete Dribbling enables players to face their opponent and use precise dribble touches combined with 360° mobility with the ball, so it's easier to be more creative and dangerous in 1v1 opportunities. Players change direction quicker, are more explosive accelerating with the ball, and are more effective shielding defenders for longer stretches.

FIFA 13 1st Touch Control transforms the way players control the ball, eliminating near-perfect touch for every player on the pitch, and creating variety and uncertainty around ball control. Factors such as defensive pressure, trajectory of the ball, and velocity of the pass now impact a player's first touch, creating more opportunities for defenders to win back possession.

The second generation of the Player Impact Engine expands physical play from just collisions to off-the-ball battles between players. Defenders push and pull for position, and use their size and strength to win possession or force opponents into poor touches and decisions before the ball arrives. FIFA 13 Tactical Free Kicks provides the tools to create dangerous free kicks utilizing the most skillful players on the pitch. Position up to three attacking players over the ball and utilize dummy runs and more passing options to create elaborate free kicks.

FIFA Soccer 13 will also feature an improved Career Mode with major changes developed in response to fan requests, new features to enhance the online play, and new features and benefits to Football Club.

FIFA Soccer 13 will be available in stores world-wide this fall for the PlayStation 3 with PlayStation Move support, Xbox 360 with Kinect, and Windows PC.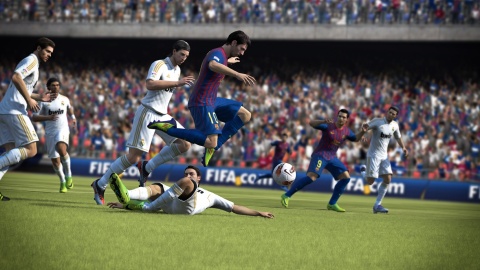 | | | |
| --- | --- | --- |
| | Comments | |
blog comments powered by

Disqus