Dead Space 3 Review
A good action game that struggles to reproduce the same atmospheric solo experience as its predecessors.
Posted by Ben Thomas (nutcrackr) on Feb 16, 2013 - 6:24pm EST (Feb 16, 2013 18:24)
---
Co-op changes the story slightly to account for the presence of a second player. Cut scenes still focus on Isaac's journey, sometimes ignoring Carver all together. Carver and Isaac share brief cut scenes that are absent from single player. There is more dialogue during the quiet moments too; like when the pair arrives on Tau Volantis. The discussions and cut scenes might be about Isaac's obsession with Ellie or Carver's battle to maintain sanity. Carver will see things that Clarke doesn't, although most of these are during the two player missions.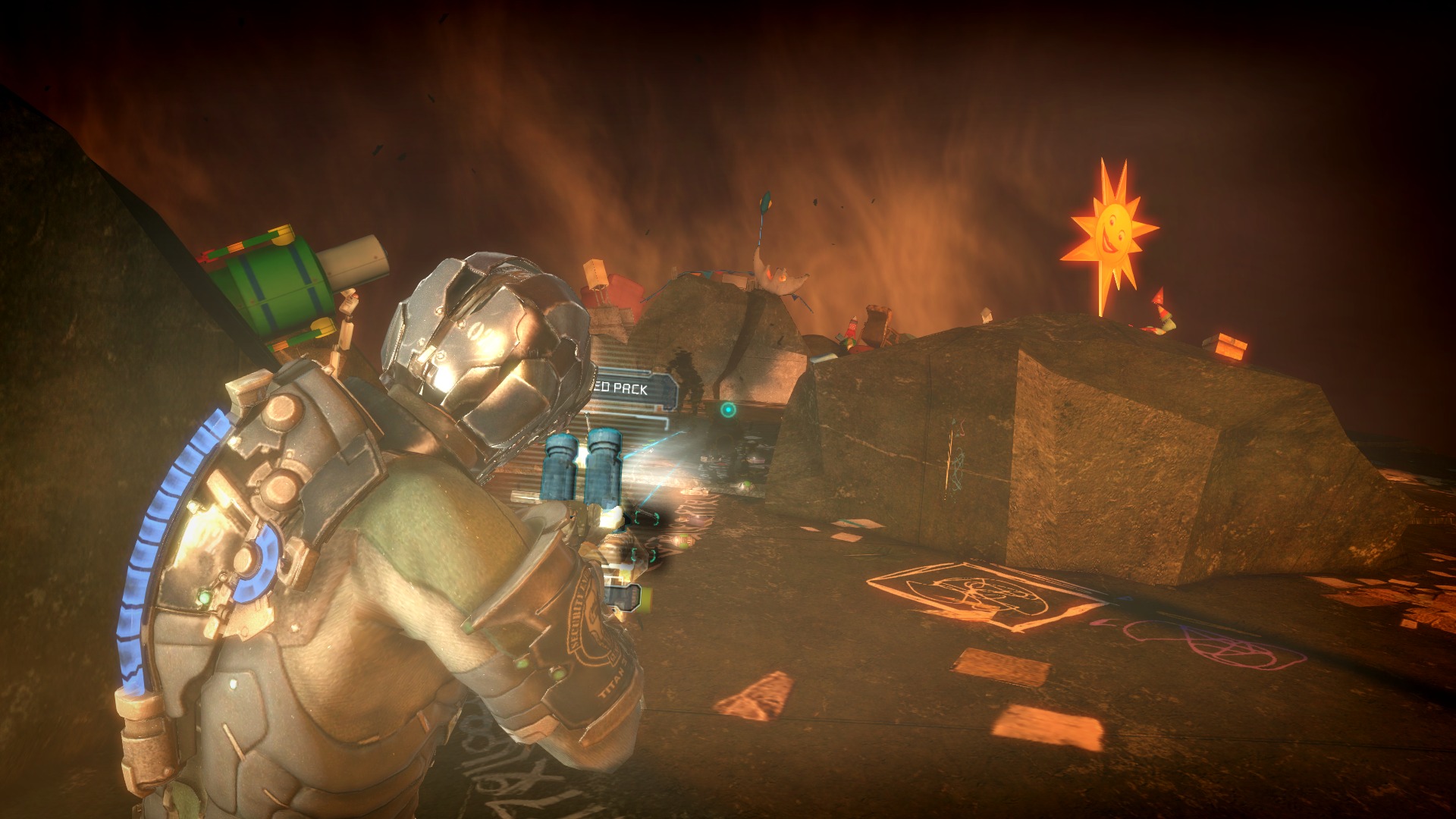 Carver's hallucinations are pretty neat
Puzzles and sequences are modified when two players are present. The shuttle re-entry has one player steering while the other shoots mines. Solo puzzles now require two players to progress. One co-op mission has the pair searching through underground tunnels while Carver's family history is revealed. Carver might battle his inner demons, produced by the Markers, while Isaac holds off waves of Necromorphs in the real world. These simple visual and audio changes are the best elements that co-op brings to the series.
Playing co-op is easy but not always smooth. Lengthy cut scenes cannot be skipped. You might need to wait minutes for a player to reach a checkpoint when joining a game in progress. If your partner disconnects during a side mission, you'll be taken to the very beginning of that mission. On the upside, you can create a co-op game from the start of any chapter or side mission. Side missions have the most enemies and seem ideal for co-op play. Teamwork is usually limited to alternating stasis fields, covering your partner or reviving them. Story snippets, Carver's hallucinations and co-op exclusive missions are good reasons to play the well crafted co-op.
Dead Space 3 features the most prominent environmental variety for the series. Much of the first half of the game occurs around the amazing derelict spaceships that have sat dormant for decades. You can freely explore the ships and the debris field surrounding them. This is perhaps the most liberating moment for the series. Never before have you had such freedom and time to explore in dangerously attractive locations. There are fleeting moments of being lost in the vastness of space. This is a perfect fit for the franchise and something that is only let down by its brevity.
The freezing world of Tau Volantis makes for a fine science fiction setting. It replaces the bulkheads of spaceships with ice caves and outposts. Threats are obscured by storms and Necromorphs hide under the snow. Enemies that charge have a distinct advantage in the blizzard like conditions. Unfortunately there isn't any weather randomisation from one play through to the next. One of the best visual areas in the game is the icy science labs. These mix the spaceship like corridors with the exterior of the frozen planet quite well. The variety makes the chapters more memorable but there are consistency issues.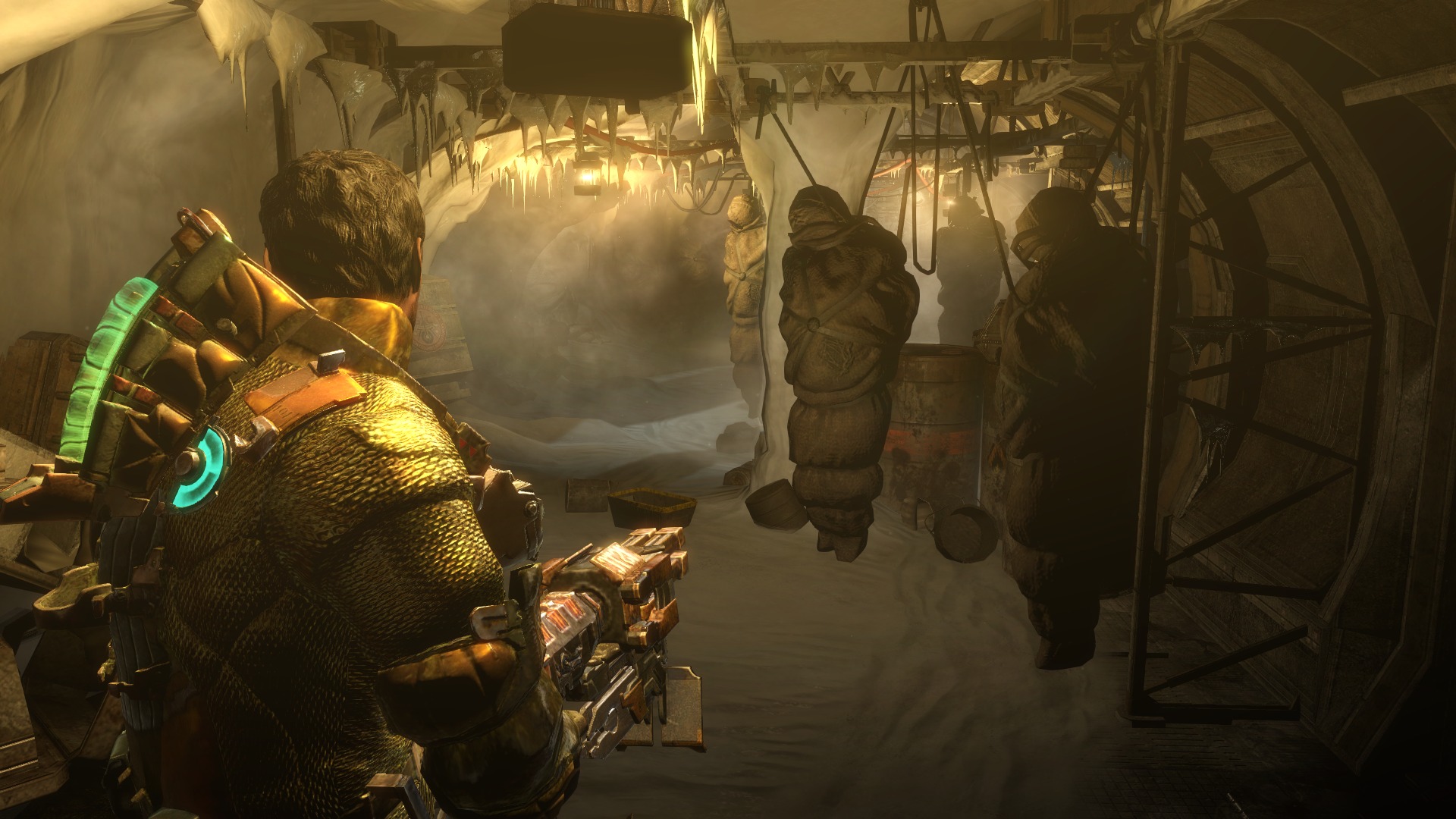 Necromorphs and snow, a chilling combination
There is a bit of backtracking to go along with all the environmental variety. Moving through the same areas a few times can seem a little unnecessary. Airlocks and elevators feel slower after you've been through them once already. Side missions reuse the same level geometry, so they also feel like backtracking. This wouldn't be so bad if there was more freedom or incentive like those early chapters in space. Necromorph encounters and other quirky happenings are not quite enough to minimize the problems with backtracking.
| | | |
| --- | --- | --- |
| | Comments | |
blog comments powered by

Disqus