Medal of Honor: Warfighter Review
Another military shooter with an uncreative campaign and a healthy focus on multiplayer.
Posted by Ben Thomas (nutcrackr) on Nov 10, 2012 - 11:12pm EST (Nov 10, 2012 23:12)
---
The class support actions don't dominate the shooting gameplay. They are relatively infrequent but still prove useful. Support actions include; smoke screens, mortars, missiles, remote robots and Apaches. The UAV is launched by throwing a small aeroplane that flies forward and circles around. You will need to be in the right place, facing the intended direction, to use it effectively. Spec Ops can deploy radar jammers that disorientate enemy mini maps. Blackhawk helicopters fly to specific locations and allow your team to quickly return to battle. To reduce effectiveness, normal gunfire destroys Blackhawks and the gunner can be shot out. The support actions expand the idiosyncrasies of each class while maintaining the balance.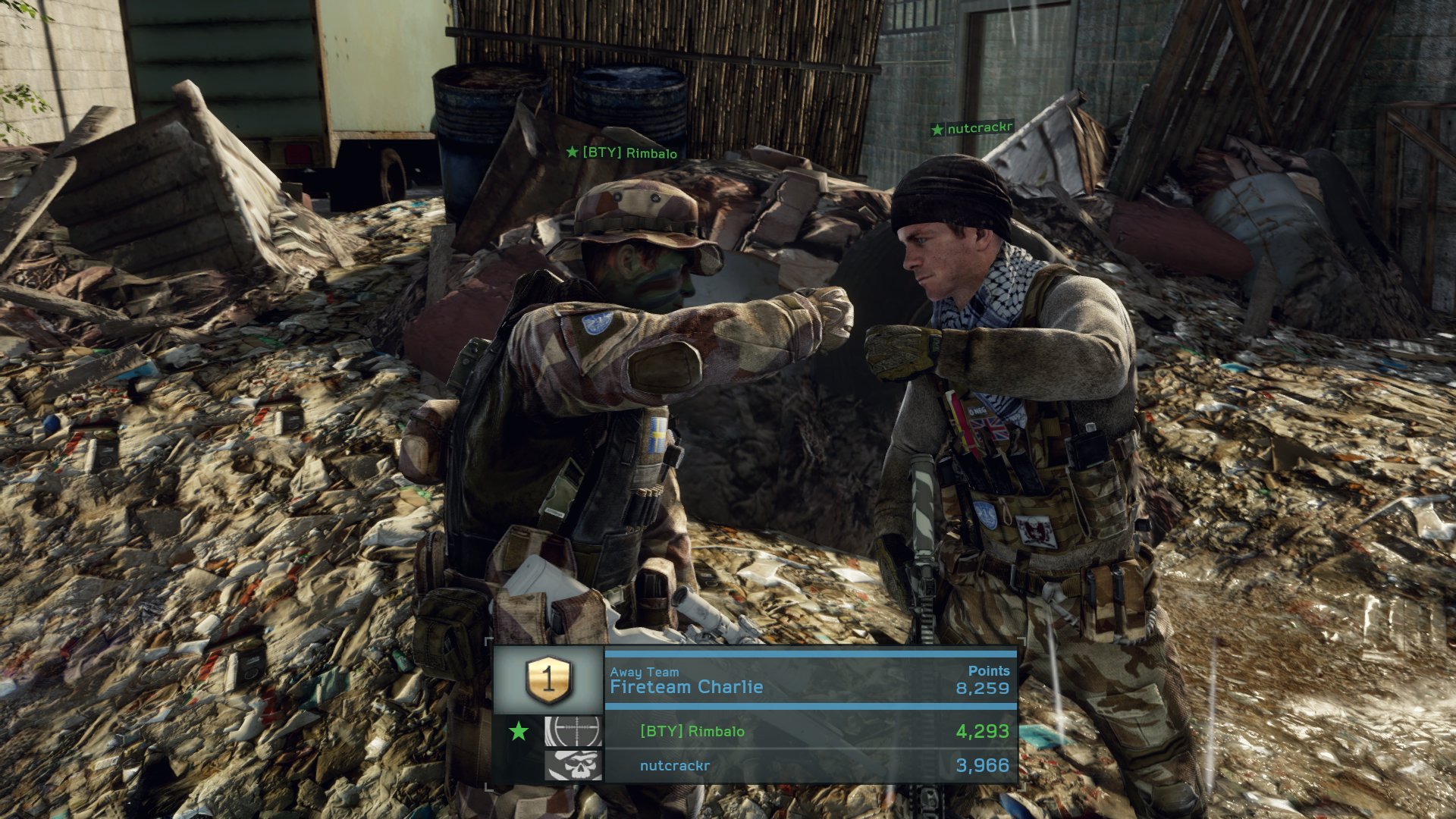 The best Fireteam gets extra tokens and the coveted fist bump animation
The multiplayer maps are well designed for concentrated battles. They omit superfluous detail and are crafted specifically for multiplayer. The Sarajevo stadium map brings the battle around a war torn Luge track. The Basilian Aftermath map is a water logged, post-tsunami map. There is a good variety of layouts and atmospheres in the eight launch maps. Sector Control (Domination) and Team Deathmatch modes are satisfying circular experiences on all maps. Combat mission, just like Rush in BF3, strings together bomb targets that extend the battle arenas. There are multiple locations to plant explosives too, forcing defenders to cover the entire objective area. The map design allows attackers to flank objectives although some do it better than others. With proven modes on good maps, the multiplayer remains engaging.
Warfighter is inconsistent with its use of the incredible Frostbite 2 engine. Some missions look ordinary, with grass materializing before your eyes. Others showcase the strengths; great lighting, wonderful animations and powerful sound. Excellent ambient audio and soldier chatter bring the multiplayer alive. The wonderful destruction effects are mostly absent, only a few wooden crates and fences can be destroyed. The game runs very well, but there are technical problems. Online play can have unexplained lag resulting in players disconnecting or warping. There are also random crashes, server delays and end of round glitches. Overall, Warfighter is a good looking game that performs adequately.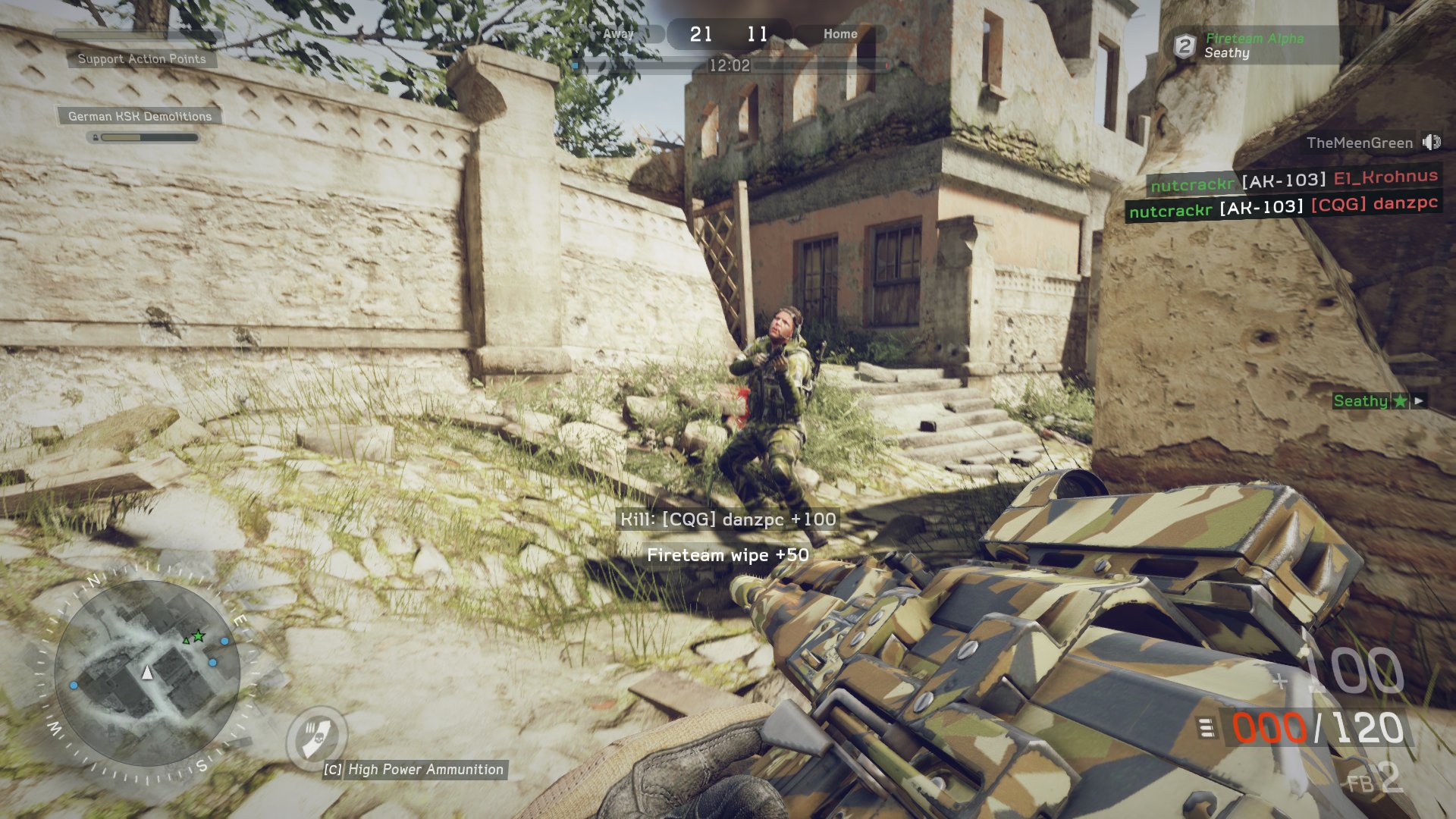 You can paint weapons a dazzling array of colors. That's what real soldiers do
Medal of Honor: Warfighter reverses the strengths and weaknesses of its predecessor. Single player is probably one of the worst shooters this generation. The disjointed campaign comprises of stupid AI and superficial breaching. The multiplayer is in another league, with enough differences to make it stand out from the saturated genre. The differences aren't merely cosmetic and can be further appreciated the more you play. Warfighter's shelf life might not be long, given the already low player count. It will depend on how EA supports it going forward. If you need a modern shooter to scratch that online itch, Warfighter might be a short term solution.
Our Ratings out of 100 for Medal of Honor: Warfighter

85

Presentation
Visuals are generally good but can be underwhelming in places. Design is very clean in multiplayer. Effects and animations still provide visual treats. Excellent audio is the standout with Frostbite 2.

74

Gameplay
The shooting feels solid although recoil is higher than usual. The solo gameplay will be tiresome. Multiplayer speed adjusts depending on the class and mode.

45

Single Player
A five hour disaster. It falters in almost all areas with terrible AI, bad pacing, disconnected levels and absurd design. The first person driving missions are perhaps the highlight. The overuse of breaching is comical.

77

Multiplayer
Good modes and maps with a spread of player classes. Fireteams split the difference between squads in Battlefield and solo heroes in Call of Duty. Teamwork is natural with a strong balance of support actions and abilities.

77

Performance - Show Review PC Specifications
Runs very well with smooth framerates during intense action. Let down by occasional crashes, glitches and lag in multiplayer. Single player has loss of progress, resolution changes, respawning soldiers and invisible walls.

73

Overall
Warfighter's campaign is poor and casts a shadow over the genre. The multiplayer has plenty of good features that distinguish it from the pack. With a few more months patching, this could have been a great multiplayer game.
| | | |
| --- | --- | --- |
| | Comments | |
blog comments powered by

Disqus