Sorcery Review
The magic the PS Move has been waiting for
Posted by Brendan Griffiths (bggriffiths7) on Jun 29, 2012 - 2:06am EST (Jun 29, 2012 02:06)
---
This is the sort of game that if played with a traditional controller you'd be playing it for hours at a time, something often difficult when standing up in front of your TV, so you'll be glad to know that the game handles well being played seated. There were a few instances of some spell motions working better from standing, such as bringing the controller upwards from waist height towards your head to summon a tornado, or drawing a line across the ground, but all of these motions can be done from your armchair with a little practice. Unlike many Move titles, I never had to stop the game to recalibrate the controller which really allowed me to get stuck into things. Technically impressive throughout, really.
The game uses a light auto-targeting system and will automatically lock your foot movement into a strafing or circular pattern when in combat. This covers the absence of a lock-on button. In fairness, the system works very well without feeling like hand-holding. It strikes a good balance for regular gamers and casuals alike.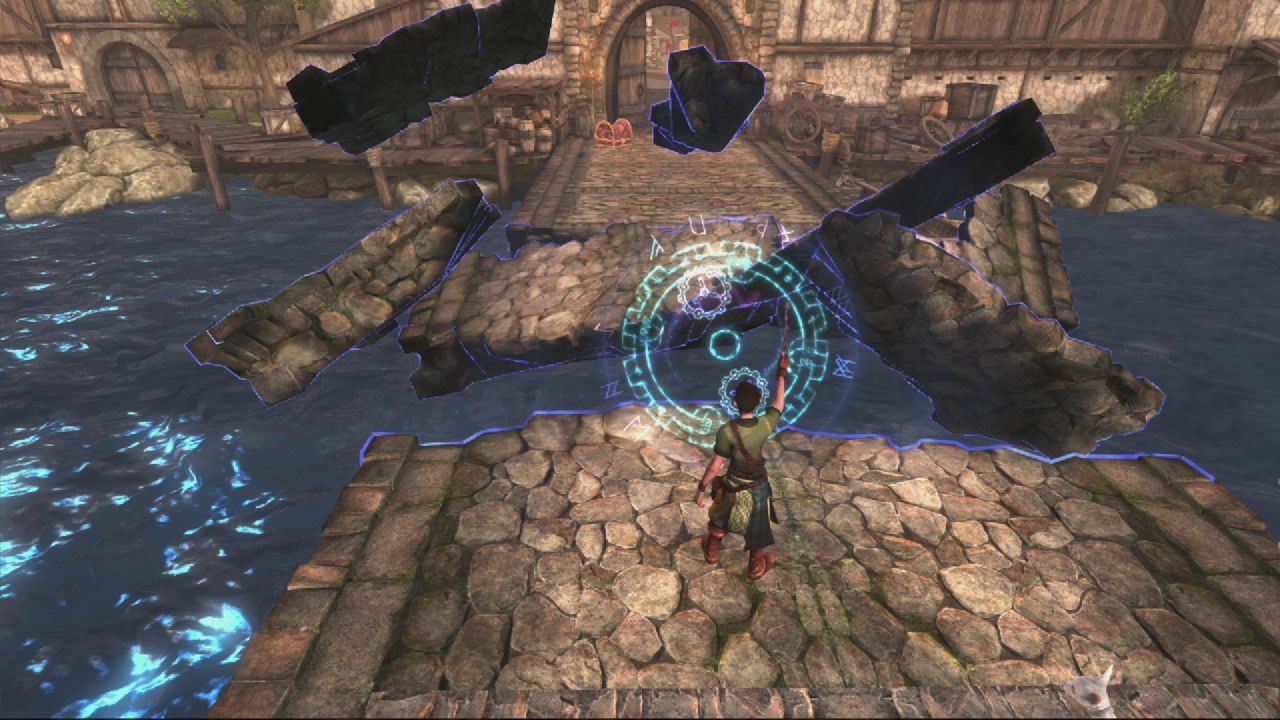 The game mainly follows linear paths, but there are side paths usually worth exploring for hidden items. Unfortunately, if you choose the main path instead when offered two, you usually can't backtrack as the way is blocked by the sudden appearance of rocks behind you. This makes it very annoying if you're after the Trophy for bagging all the chests and treasure in the game. Blocking off backwards paths like this is often used to allow quicker loading in games as it only needs to have smaller sections active at a time, and that appears to be the case here as the game has few loading screens and the frame-rate is consistently smooth throughout.
After undergoing a late art-style change I'm glad to say the game looks great. Ditching the bright shades typical of many children's games, we now have something a bit more mature. The fantasy settings are crisp and well detailed, bringing the comparisons more in line with games like Darksiders or Folklore rather than Ratchet & Clank.
A special mention needs to go towards the story and the cast. While the story is basic apprentice boy wizard and his talking cat companion must stop the wicked wish from destroying the world type of thing, it's written well enough to keep you interested. The cutscenes are told with semi-animated tapestry-esque paintings which get away with the cheapness by at least looking good. The voice over actress playing Erline the cat (Ashley Bell) puts in a particularly strong performance that goes through a wide emotional range that I wasn't expecting from a game like this.
The whole package turns out to be better than you'd expect. The fanfare for the game may have faded as its development time swallowed the initial hype, but it was certainly worth the wait for any gamer keen to justify their purchase of Move controllers beyond Sports Champions.
Our Rating for Sorcery

79

Presentation
The mature art-style redesign has done wonders for the game and the animated tapestry cutscenes add a classic storybook feel to things.

90

Gameplay
The motion controls combined with being able to move your character freely are a big success and stays fun to play for hours on end.

81

Single Player
The story will last two or three days of casual afternoon play. Packed with hidden items, tough but fair boss fights, enjoyable combat and a likable cast this is the way Move games should have been years ago.

NR

Multiplayer
None

84

Performance
The best motion controlled spell casting yet. Not having to recalibrate the device once made for a great change too. Being able to play sat down bags the game some points too.

83

Overall
Typical, the Harry Potter series comes to a close THEN someone makes a great game about casting spells. Hopefully, this will encourage other developers to make more Move titles in traditional game genres rather than minigame collections.
| | | |
| --- | --- | --- |
| | Comments | |
blog comments powered by

Disqus