Journey Review
Thatgamecompany proves that not all those who wander are lost, with one of the most aesthetically and thematically beautiful videogames ever created
Posted by Matthew Sawrey (matski53) on Mar 23, 2012 - 12:29am EST (Mar 23, 2012 00:29)
---
Easily mistaken for a hallucinated mirage upon your first encounter, Journey's co-operative element is integrated with such an unusual seamlessness that it can easily surprise. The feature is not hidden behind myriad menus and lobbies, but incorporated as a natural element of the world with fellow wanderers popping into sight with no forewarning or indication. These acquaintances tend to vary from fleeting affairs of fancy to full Journey travel companions, yet all the while your limited interactions dictate that a fellow pilgrim will always remain a stranger. Shouting your symbol within the vicinity of him/her will charge their jump giving some incentive to companionship, but the feature is completely unessential and therefore feels a little hollow. Yet the presence of a fellow waylaid wanderer proves a strangely comforting one as you guide each other through Journey's challenges, the latter wind traps and sharp cliff edges.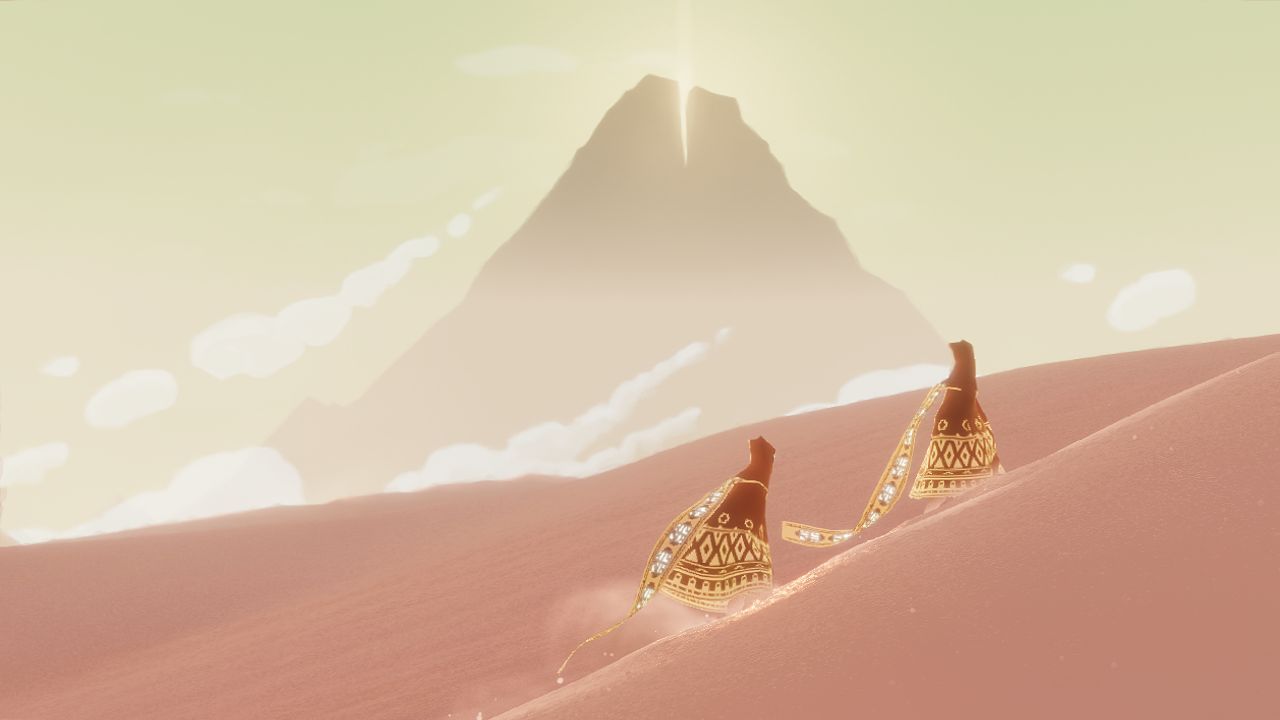 Much like the rest of Journey's design it is the utter simplicity of these mechanics in play that make it such a potent experience while it lasts. But sadly, clocking in at around 2 hours, Journey is something of a brief encounter, the antithesis of a content heavy, punishing Dark Soul's style slog. And when considered with the fact that there is little replay value to an experience whose allure lies in that initial sense of wonderment, Thatgamecompany's latest will undoubtedly leave some craving, rather than satisfied.
But this also speaks volumes about the quality of what is here. In reducing the common videogame adventure to its constituent elements and basic emotional arc, Thatgamecompany have produced an adventure that stands as a simple metaphor for the journeys we all take in our lives. A venture into the unknown, traversing the hardships and struggles against seemingly insurmountable odds, the disappointing setbacks and failures. But also the discoveries, revelations and beautiful locations found through adventure. As such it has sculpted an incredibly emotive experience, more evocative than the detailed crinkle of an LA Noire brow, or the uncanny valley bound conversations of Mass Effect. One crafted through pitch perfect tone, theme, setting, music, feedback and the gentle helpful push of a complete stranger to continue through this Journey's difficult moments. It is all that and more, in one of the purest and most beautiful adventures that videogames have ever taken us on.
Our Ratings out of 100 for Journey

90

Presentation
Elegant and understated, Journey is never anything short of a mesmerizing audio-visual presence.

88

Gameplay
Interactions are minimal, reduced to simple platforming, basic adventure game mechanics and single symbol conversations with fellow online wanderers that may be of-putting for some. But through this simplicity Journey expresses a number of themes and ideas rarely touched upon by videogames.

90

Single Player
Short in length and content, yes. But during that time it is nothing short of a masterpiece in minimalist game design.

80

Multiplayer
Journey's fleeting and wordless interactions with fellow wanderers are like nothing before it. The lack of any true interaction between two players is a little hollow, but to take this Journey with a complete stranger is a unique experience.

95

Performance
Consistently as fluid as the sands of its deserts or the ripple of its scarfs blowing in the wind.

90

Overall
Whether you care to examine the thematic underpinnings of this adventure or simply appreciate the audio-visual treats on offer, it is undeniable that Journey is something unique. Dig under its surface and you have an experience that says something rather profound about videogame adventures.
| | | |
| --- | --- | --- |
| | Comments | |
blog comments powered by

Disqus