Mass Effect 3 Review
In many ways, Mass Effect 3 is the best game in the trilogy, but its greatness is obfuscated by significant technical and narrative inconsistencies
Posted by Tim Reid (with_teeth26) on Mar 19, 2012 - 9:28pm EST (Mar 19, 2012 21:28)
---
The actual missions in Mass Effect 3 are fairly lengthy, well paced and often very atmospheric. Combat scenarios often take place in the midst of huge battles or in eerie locations, and while the basic combat remains unchanged from Mass Effect 2, improved level design as well as better weapon and enemy variety make things much more interesting. There are loads of different weapons within each weapon type, and they all feel different form one another. On top of this, they can be individually upgraded to improve accuracy and damage, as well as modified with things like scopes or materials that decrease the weight of the weapon. The shooting feels good, and the interesting combinations of enemies thrown at you encourage experimentation with power combinations. The biggest problem with the combat is that there have been several different functions mapped to the same key; roll, take cover, sprint, and interact. This can lead to situations where you are trying to roll or sprint away from an enemy when you are at low health, but instead take cover on the wrong side of a wall and get killed. You might also find that Shepard tries to activate some buttons by rolling into them.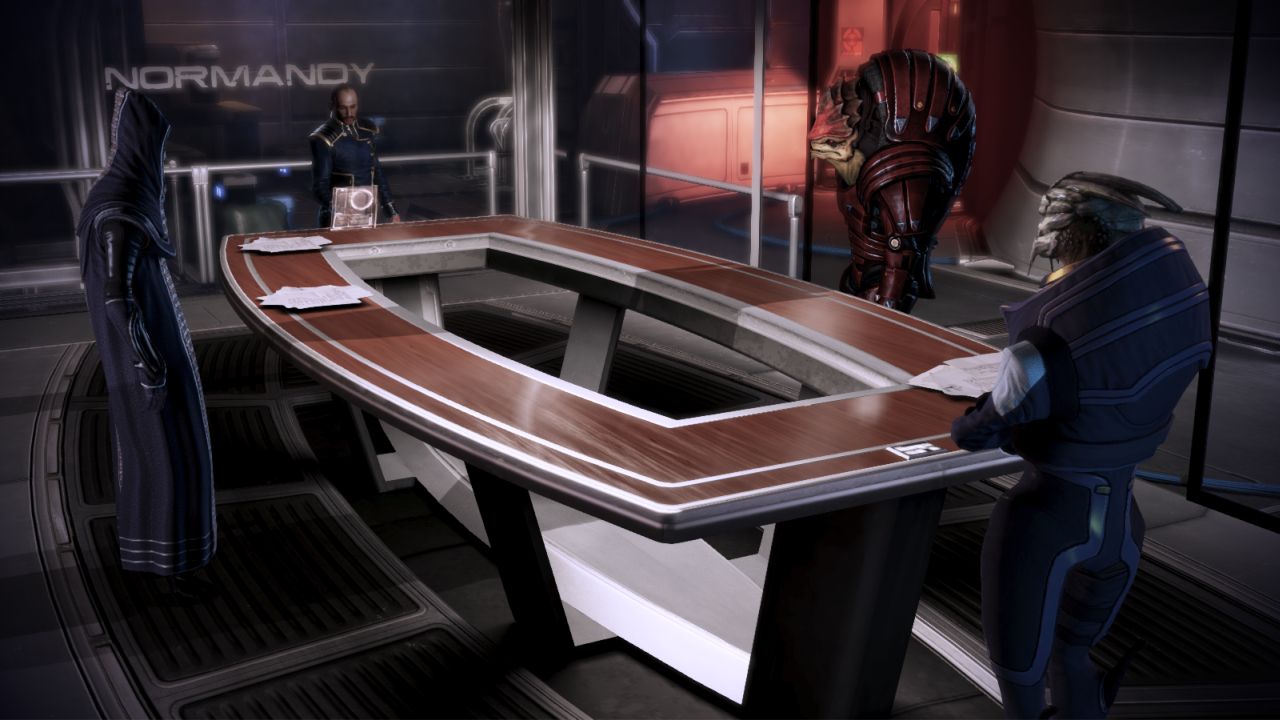 You should bring your Interstellar diplomatic A-game for this title

Like with the previous games you will bring two squad mates along for each mission. You can still order them around and tell them when to use powers, but if you would rather focus on yourself they do a decent job of fighting by themselves, apart from their occasional need to run in front of enemy fire and get killed. There aren't as many squad mates to choose from as there were in Mass Effect 2, but the characters here are for the most part better developed and more interesting. Depending on the decisions you made in previous games, you will encounter old squad mates from the previous two Mass Effect titles and have a chance to catch up. The focus here is more on the story than the individual characters however, and the result is a more exciting experience that is harder to pull away from.
If you were one of the people who thought planet scanning for resources in Mass Effect 2 was a tedious endeavour, you will be pleased to know it has been revamped to become a bit more interesting. You can go into reaper-controlled systems and scan for items of interest, but if you use your scanning device too many times the reapers will become aware of your presence and give chase. System scanning is still the weak point of the game, but it's a solid improvement over the tedious planet scanning in Mass Effect 2. There are a lot of side quests in Mass Effect 3, and they range from tedious fetch quests for people on the citadel to fairly fleshed out missions. Many of the side quests take place on maps recycled from multiplayer levels, and these diversions are generally underwhelming. Everything you do from system scanning to side and story quests will contribute to your war-readiness rating, which will impact how the ending plays out.
| | | |
| --- | --- | --- |
| | Comments | |
blog comments powered by

Disqus