February Video Game Culture Recap
Recapping the highlight news and stories from the previous month
Posted by Peter Ingham (Nechrol) on Mar 7, 2012 - 9:36pm EST (Mar 7, 2012 21:36)
---
There has been a mass of bunched gamer briefs over day-1 DLC regarding Mass Effect 3 and EA. EA has been tagged by some as the AT&T of the gaming world, some giant corporate monolith sucking money, and life out of its consumers like a global Ark of the Covenant.
Day 1 DLC is nothing new, it's quite commonplace these days, and usually arises when a development team has finished the major workings of the game and has extra time on their hands. This is fair enough; people want more content for their game. I think the problem arises when gamers feel as if they've just dished out $60+ for a game, only to be greeted with a pop-up informing them they can access a new portion or character for a few more dollars. Some consumers feel as if they've not received enough "bang for their buck" and personally, it's the reason why I'll be postponing my purchase of the game.
I'm a completionist, and I remember buying Dragon Age and slotting it in my comp, and being assailed with DLC for new characters. It took all my restraint not to throw my wallet at the monitor, for some inexplicable reason I felt I was missing an integral part of the gaming experience by not having the character. I'm currently in therapy for it.
Day 1 DLC I can allow... barely, but what truly baffles the mind is the
Razer peripherals
they have released in conjunction with the game. You can pay around $139 for a keyboard, which allows you to unlock spurious extras in the game. The grand total of purchasing all of the merchandise and packages rockets the full price to over $800. You could say that to have the proper Mass Effect experience you have to have all the accessories, and there certainly will be die-hard fans out there that will gobble it up. I think the problem here, is that in some respects, gaming is like a drug and companies act as pushers, teasing you with jigsaw pieces of content laid out over different mediums because they know someone will want it. Pretty sneaky sis.
Some actual heart warming news in the world of gaming as Tim Schafer, of Psychonauts and the excellent Grim Fandango fame got Double Fine Production's kickstarter project for Psychonauts 2 off to a great start. Minecraft's developer Notch tweeted Schafer regarding the game and brought it to the attention of his legions of followers and the media. Soon, everyone poured into the kickstarter page and managed to surpass $1.4 million.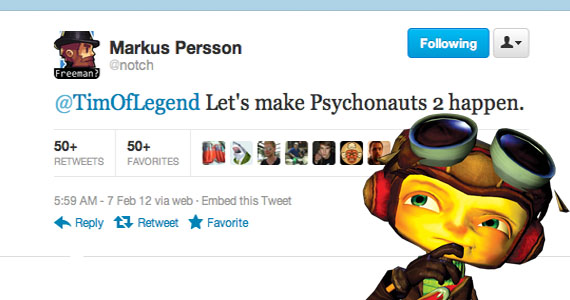 For those that don't remember Psychonauts, it was a surreal and cerebral Platformer released way back in 2005 by Double Fine Productions with Schafer at the helm as lead designer. Despite garnering critical acclaim, the game sold poorly and was deemed a commercial failure. It's a shame, the game was unique and had a great narrative but with the growing homogenisation of the industry, it just couldn't pull in the masses.
On the upside, sites like kickstarter and Pledge music are giving more power back to the developers and artists by allowing the consumer to dictate what movies, games, and music they want to see. In a way, it takes the pressure of smaller companies and should hopefully show larger companies that always strive for the middle (read uninteresting) ground that fresh ideas and the continuation of more obscure and unique games are still viable.
| | | |
| --- | --- | --- |
| | Comments | |
blog comments powered by

Disqus