Elder Scrolls V: Skyrim Review
One of the best roleplaying games of all time
Posted by Christian Sorrell (sirdesmond) on Nov 26, 2011 - 12:35am EST (Nov 26, 2011 00:35)
---
Within the first hour or two of play, I found Skyrim's simplified UI and character system slipping into the background and myself being entirely pulled into the game world, its well-written story, and its wide array of interesting (and mostly well voice acted) characters. I was 40 hours in before finishing the game's primary quest line which thankfully, ended exactly like every quest line should in a Bethesda RPG: without credits and a formal ending. Instead, it you get a fitting conclusion that spits you back into the game world to continue your adventures. You won't have to go back and re-load your last save, forever leaving the game's primary villain alive just so you can see more of the game's content. Even after 40 hours of play and finishing the game's main quest, I am still feeling a bit overwhelmed with content, having only truly explored one of the Skyrim's nine capital cities and a majority of the civil war quest line waiting to be completed. I can easily see breaking 100 hours of game time and expect the total number to be much closer to 150-200 hours if you are looking to see absolutely everything the game has to offer.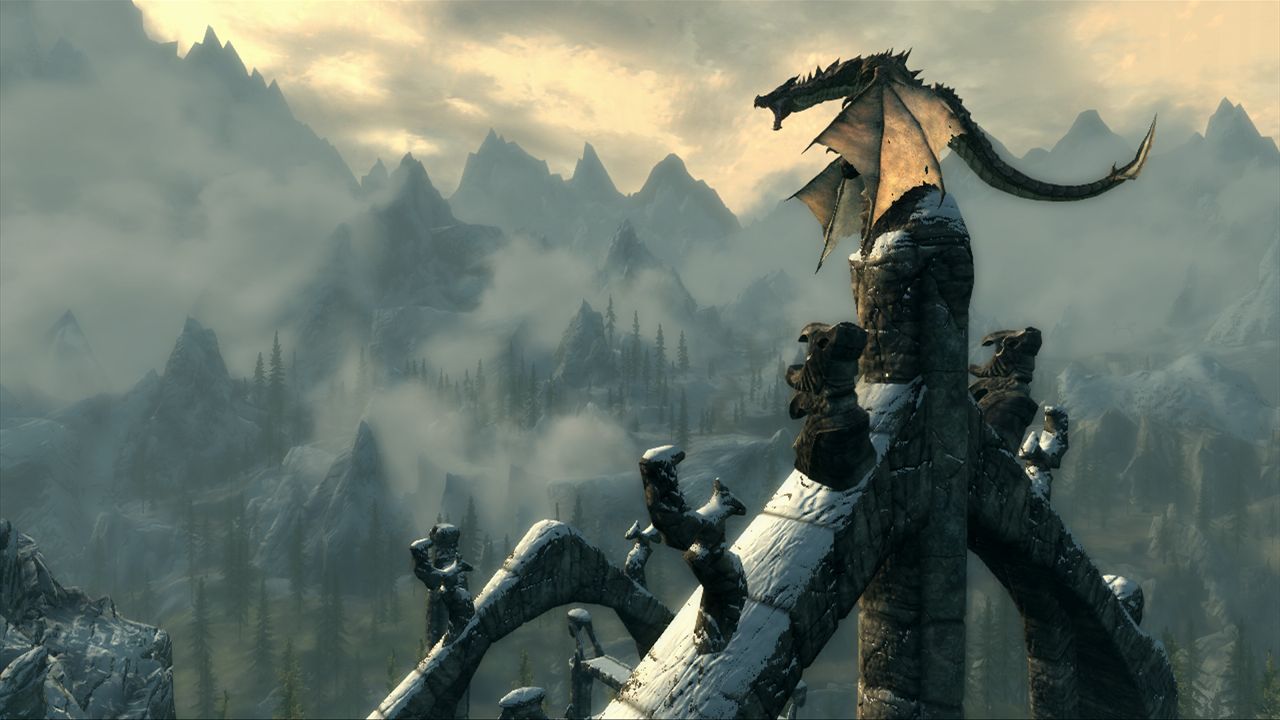 The Elder Scrolls V: Skyrim is a breathtaking game overall. It's expansive "do-anything, be-anyone" play style is done here better than ever before. Bethesda appears to have learned from many of their past missteps and may have learned even more during their time working on Fallout 3. The main quest line is lengthy, varied, and most importantly, extremely enthralling. You'll have a hard time believing that this story is brought to you from the same developer that sent you marching through a seemingly endless number of identical Oblivion gates in the series' previous entry. It ends exactly how an Elder Scrolls game should, keeping you in the world rather than pulling you to a cold credit screen and forcing you to load your last save. Graphical glitches and technical issues still waiting to be hammered out by the patching process are easily overlooked when every other aspect of the game is just so incredibly absorbing.
To put it as frankly as possible, The Elder Scrolls V: Skyrim is one of the best games of the year, one of the best games of the current console generation, and one of the best roleplaying games of all time. Don't miss it.
Our Rating for Elder Scrolls V: Skyrim

96

Presentation
A beautiful new graphic engines and entirely re-designed UI are both massive improvements over the aging visuals of Oblivion and Fallout 3.

90

Gameplay
Revamped combat and archery are better than ever but they still leave something to be desired overall.

98

Single Player
Hundreds of hours of compelling content, a better primary plot, and a rich world create one of the best singleplayer experiences ever.

NR

Multiplayer
None

85

Performance
Runs better at launch than most Bethesda titles but be prepared to encounter a few problems.

96

Overall
The realm of Skyrim is a beautiful and endlessly enticing one. If you enjoy great video game experiences, then you absolutely should not miss Skyrim.
| | | |
| --- | --- | --- |
| | Comments | |
blog comments powered by

Disqus