AC: Brotherhood Review
Though a must-play for fans, this entry advances the franchise with uneven results
Posted by Christian Sorrell (sirdesmond) on Dec 27, 2010 - 11:16pm EST (Dec 27, 2010 23:16)
---
Living up to its name, Brotherhood does, eventually, grant you the ability to recruit, train, and lead a brotherhood of fellow assassins into battle. Acting more as a power-up or ability than a true party system, Ezio can call in single groups of assassins at a time or even rain down arrows from above with a single flick of his wrist. This mechanic is exciting and does allow for you to face enemy encounters in an entirely different way than ever before possible.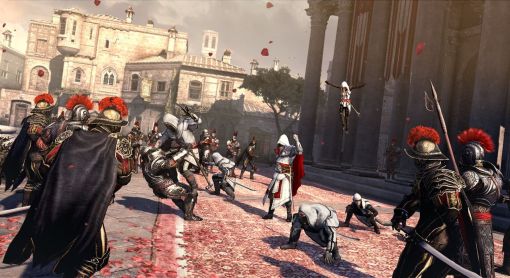 After a bit of time with your team of assassins though, you'll find that they never really seem to get anywhere close to dying and that the bars required to call them in fill far too quickly. Much like the economy systems of both Assassin's Creed II and Brotherhood, the team of assassin's becomes something of a win-button not long after you obtain it. The player must be the judge of how difficult he or she wants the game to be rather than the game making that decision for him or her which tends to be a bit of a double-edged sword throughout the campaign. Regardless, this is a mechanic that needs to stay with the series and make its way into future games both for its relation to the logic of the story and the interesting mechanics it adds to the game overall.
Horse combat has been revamped as well and with exciting results. Not only has the ability to ride horses through bustling city streets been granted but the combat is much more ruthless and breakneck while atop one and the same applies for guards. While on foot facing a guard on horseback will have you scrambling out of harm's way while trying to figure out a way to throw him off or kill him before he gets back to you. These somewhat subtle changes take the role of the horse from nothing more than a poorly-implemented driving mechanic and into a useful mode of transportation and an exciting combat tactic.
| | | |
| --- | --- | --- |
| | Comments | |
blog comments powered by

Disqus