Game Character Creation for Dummies
Our monthly editorial gives food for thought on modern character design. So follow it. Or not.
Posted by Peter Ingham (Nechrol) on Jul 4, 2011 - 1:24am EST (Jul 4, 2011 01:24)
---
So, you've got a game, and let's be honest, it's pretty awesome, you're not one to brag but it's firing on all cylinders. It's hit the gaming trifecta: Weapons, burly dudes, and most importantly, boobs of some sort. There doesn't even have to be a woman attached to the form, just the chest'll do, preferably a mini game using the motion controller to jiggle them.
However, amidst all of this profound awesomeness you still don't have the main character, just a hunk of flesh with no personality. A game's protagonist in most cases is the poster boy for your endeavour, whether it is an adventure, shoot-em-up or role playing game. In this new age, a game's protagonist has to stand out, be a recognisable face for the hopeful franchise.
So, I've taken it upon myself to create a foolproof guide that will focus on some of the finer points of refining your protagonist.
Edutainment time:
If you're player is the chosen one, then the first thing they need is a name that displays just how awesome they are. It's got to be something that imbues your enemies with fear but also causes the opposite sex to become weak at the knees, subsequently collapsing and banging their head on a table. Notable examples include:
Snaaaaaaaaaaaaaaaaaaake (Metal Gear Solid)
This is an example of a mononym, where your character only has a first name, like Cher, or Madonna. Compare this with his boring 'real' name, David. David's don't save the world, they get killed in the first ten minutes of the game in some sort of horrible skiing accident.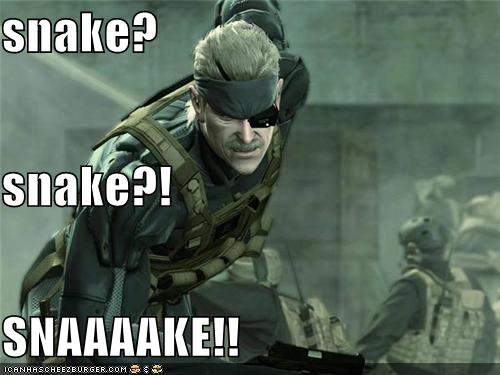 Edge Maverick (Star Ocean: The Last Hope)
The problem with this name is that it's just too cool and sounds like a cross between a hardboiled detective and a new type of shaving razor. Value dissonance also occurs when you find out he looks like an Aryan poster boy for some futuristic Nazi cult.
Gordon Freeman (Half-Life)
A name that has thematic resonance with the games plot and the character. Not the Gordon part obviously, as it sounds like he should number crunching in Black Mesa's accounting department, but the 'Freeman' part, which provides name-o-logical equilibrium.
Designing your character so that they look cool is half of the battle, this usually makes up for discrepancies in personality and the questionable actions they undertake. Cases in point:
Duke Nuken (Duke Nukem obviously)
A classic throwback to all those late 80's, early 90's action heroes. His wife-beater shirt and sunglasses makes his misogyny and toilet humour acceptable as we automatically assume that before each game he has drank a dozen beers and pleasured up to several women (probably strippers).
Ryu Hyabusa (Ninja Gaiden)
The epitome of skin-tight, leather suited heroes. The black outfit is a default setting for any hero as it's always in fashion and we can only wonder how much oil and baby powder is needed to squeeze himself into the fantastic one-piece.
Marcus Fenix (Gears of War)
Pretty much nails being the 'hard man' character. He's got the cool name, the giant suit which probably weighs as much as your mother's minivan and a face that looks like he's spent his formative years with his face inside of a volcano and sleeping face down on broken glass and nails. He's everything you could want and more.
| | | |
| --- | --- | --- |
| | Comments | |
blog comments powered by

Disqus