L.A. Noire Review
A detective thriller set in a classy era, this title offers a unique and enjoyable experience that outweighs its shortcomings
All of this roaming takes place in the beautifully recreated city of Los Angeles from the 1940s. The developers did an outstanding job of actually recreating the city, based on aerial photos from the time period. Not only that, the game has many notable and accurate landmarks, such as the Hollywoodland sign on the hills, Pershing Square, and many others. The player is free to explore the whole city, which is dauntingly large, during the course of the game. Most of the locations aren't interactive though, as player is only allowed to enter buildings during specific cases. The vehicles and lifestyle of the era are also well represented, making it for a satisfying trip back in time. Given the sheer scope of the city, and the lack of things to do mentioned in previous paragraph, it does at times feel fairly empty uninvolving. The drives between destinations get very lengthy at times, but thankfully the fast travel option is available. The setting for L.A. Noire is historically accurate and fantastically recreated, but from the sheer fun and gameplay perspective, there's just not a whole lot on offer.
The game's presentation is full of style. From the sharp suits to the classic cars, and of course the city itself, L.A. Noire does a great job of setting the mood. Fans of noir will have a lot of enjoyment from this setting and will love the time spent in this immersive world. To complete the package, the game even includes an option to play in black and white. The game uses its own engine, which is very similar to Rockstar's Euphoria. This means the framerate is steady, physics are solid and bugs are minimal. Unfortunately, it also means the game's visuals are often sub-par, with many jagged lines and a lot of texture streaming. It even undermines the fantastic animation somewhat, as the faces of characters are in fairly low resolution.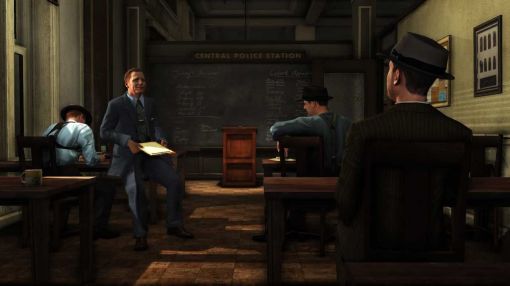 The sound design, on the other hand, is great through and through. From the characters delivering their lines, to the ambient soundtrack, to the sounds of the radio, it's all a joy to hear. Actors deliver their dialogue with passion and care, which is supplemented by good writing. Audio design is good as well, providing authentic themes to the world during exploration. Finally, the radio station is also great and very fun to listen to. There is but one quirk, as the radio is replaced by looping theme music when traveling to a map-marked destination. That means for almost all of the story driving (when not in free roam), listening to the radio isn't possible, which is a very unfortunate design decision.
L.A. Noire is something different, not just for Rockstar, but for the genre as a whole. There has never been quite a game like this, with an interesting setting and unique gameplay that falls outside of the mass market. There's no doubt that with its amazing animation tech, a good story and well developed investigation mechanics, L.A. Noire will find and surprise its audience. Perhaps this review sounded a bit negative at times, but worry not – this is a good title, with great ideas that fall just short in execution. If there is a sequel, and we would hope there is, the game has done enough things right that it would only need to polish a few of its features, not reinvent them. This is a unique experience, though not without fault, that's recommended to anyone curious in the adventure genre, wanting new gameplay experiences, or just to check out the amazing animation technology.
Our ratings for L.A. Noire out of 100
Comments
blog comments powered by Disqus
| | |
| --- | --- |
| #3 Jun 5, 2011 10:20:46 (Jun 5, 2011 10:20) | |




Nechrol

I think it's a definite contender and not so niche IMO. Loads of people love detective procedurals, and it does it a damn site better than the CSI games. Also with the explosion of Madmen/Boardwalk empire and that 40's/50's revival I think it came out at just the right side.

I think aside from the great motion capture. I love solving cases and being a detective and it's such a unique (from my experience) take on the whole idea.

That's my piece!

| | |
| --- | --- |
| #2 Jun 1, 2011 18:27:47 (Jun 1, 2011 18:27) | |




SpectralShock

The tech was good, and it's a solid entry in a niche genre, but GOTY? Not for me.

| | |
| --- | --- |
| #1 Jun 1, 2011 16:03:54 (Jun 1, 2011 16:03) | |




sirdesmond

I'm really excited to see what I feel like it the beginning concepts of the truly next-gen adventure game. It's a shame they couldn't cut out more of the GTA-style action that just doesn't fit into the game at all. That said, it's definetly my game of the year so far.