Demon's Souls Review
An action-RPG that takes no prisoners. It's bold, brutal and brilliant, but certainly won't be to everyone's taste despite its undeniable quality
Posted by Ally Doig (TheLazyPerfectionist) on Feb 25, 2011 - 1:46am EST (Feb 25, 2011 01:46)
---
On the surface, From Software's action/RPG Demon's Souls is the embodiment of contradiction. It reverts back to the ruthless days of 8 and 16 bit gaming whilst introducing some of the most innovative features seen in the current generation. It's simplistic dungeon-crawling premise is a mere smoke-screen for layers of fiendish intricacy. The morbidly oppressive atmosphere is simultaneously the reason why it's so immersive. It's relentlessly punishing, yet unrivaled in the gratification it can offer from overcoming a seemingly impassable obstacle. It's harsh, but once you've learned how it works - it's fair.
In short, Demon's Souls is a rare exception in an age where players are a spoiled bunch, tactfully being spoon-fed our gaming experiences. So let's make one thing perfectly clear, this is not a pick up and play title. It requires patience, practice and 'through gritted-teeth' levels of perseverance. Though if you're willing to invest these attributes into Demon's Souls, remorseless torment with eventually give way to great reward.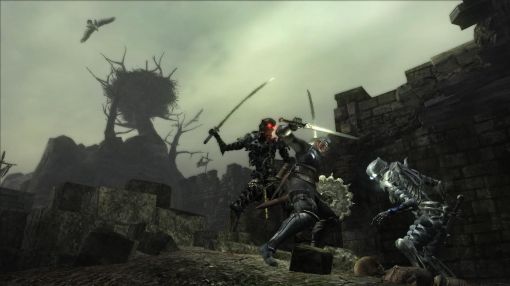 It's perhaps fitting to mention Demon's Souls weakest element first - the story. Strangely for a game that is heavily comprised of conventional RPG elements, it doesn't rely on a strong narrative or excessive dialogue throughout. Instead, the player is sent out into the unforgiving world uncertain as to what to expect, armed only with an underpowered primary weapon and a vague back-story.
A thick, colorless fog has engulfed the land which is now prowled by demons, your task essentially being to slay them and restore peace, etc. Fairly run of the mill stuff admittedly, but it's not the plot itself which demands attention. It's the environments surrounding you, the hazards they present, and how you choose to (if you have the intestinal fortitude) overcome them.
Although having been developed in Japan, Demon's Souls game-world, Boletaria, is heavily modeled on typical Western fantasy: huge fire-breathing dragons, colossal ogres, flying gargoyles and all manner of swords and sorcery awaits. Whilst on paper it may sound worryingly familiar (a repeatedly used setting for hack-n-slash titles, RPG's and endless Tolkien inspired fiction), Boletaria's overarching feel is unique - and although constantly somber in tone - lovely to look at. From crumbling castles to twisting gothic architecture and rain soaked valleys; each expertly crafted location is atmospheric in its own right and demands to be explored despite your foes best efforts to prevent you from doing so.
| | | |
| --- | --- | --- |
| | Comments | |
blog comments powered by

Disqus
| | |
| --- | --- |
| #1 Jun 14, 2011 11:54:17 (Jun 14, 2011 11:54) | |

sirdesmond

Just started playing this game last night and I'm already getting pretty obsessed with it. I never in a thousand years would have thought I would have liked it based off of the horror stories I heard about it's difficulties, boss fights, etc. but man, they really did something right with this game. It has all the reward of extreme difficulty without all of the frustration of other difficult games.