Test Drive Unlimited 2 Review
Not quite an unlimited experience, the sequel to the massively multiplayer racer proves to be more of the same
As the original Test Drive Unlimited released back in 2006-2007, it was an innovative title that combined racing and massively multiplayer interaction into one game. Sure, some areas were not very fleshed out, but overall this was a new foray that defied classification into a specific genre. Rather, it provided an interesting escape into a warm and sunny Oahu, where players were free to explore the whole island in a variety of high performance dream cars. Test Drive Unlimited 2 (TDU2) provides that same experience, on a higher level due to improved graphics and a whole new island of Ibiza to explore. Unfortunately, most of the game's elements haven't aged very well, and the game can't hold up as either a good racer or a proper MMO experience by today's expectations. Nonetheless, the game still provides a unique experience that will satisfy players who are looking for a title in this niche.
Right from the start, the game introduces players to an overall narrative in TDU2. While the original game featured little more than a string of races and cup events, this time around we're introduced to a set of characters competing in the Solar Crown, the premier racing competition on Ibiza. Sadly, the whole thing feels overly tacked on, and the very poor voice acting and writing really make for some painful cutscenes. The dialogue feels forced and overly simplistic, and begins to often repeat itself during races. The voice acting isn't much better, and the whole story is really just isn't necessary. Being unable to skip any of the cutscenes or repetitive race introductions takes a toll on your patience after a while.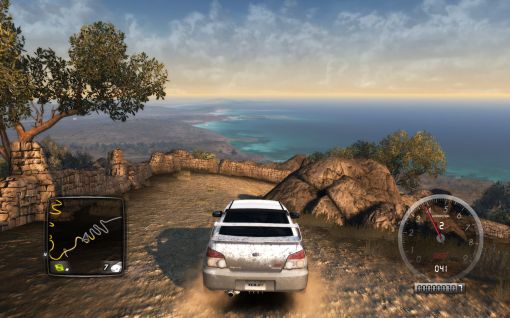 The game takes place on the island of Ibiza, which is beautifully detailed and accurately recreated. TDU2, much like its predecessor, is the perfect racing game for those who want to drive for an hour and never see the same intersection twice. The island is probably the best feature of the game, it looks quite stunning with a respectable draw distance and newly added full day/night and weather cycles. All of these visuals make for a believable, living world with its share of civilian traffic, various animals and airplanes crossing the sky. The transitions between weather and time of day are done fantastically well, and this is probably the only racing game in recent memory that has such a great atmosphere in the game world. There is a race event in the game that allows the players to take a trip around the circumference of the island – and at average speed of around 240km/h, it takes over 40 minutes to complete. That's the kind of scale other games will have a hard time matching.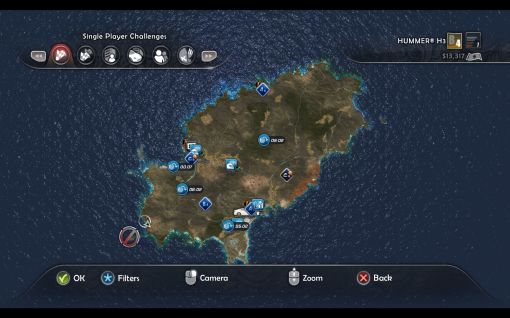 Thanks to this sheer size, the island encompasses tons of different scenery and locales, each with strong distinguishing features, and it's refreshing to discover these new areas and their unique landscape. Not to be outdone, the game also has the updated island of Oahu from the first game – now that's a ton of gameplay space. While both islands are beautiful and a joy to explore, they are fairly static. Almost all objects in the world are immovable – be it lamp posts, garbage bins, benches or fences. Really the only "destructible" scenery in the game is road signs, while everything else has the properties of solid rock, and a collision with the smallest park bench can easily end your race.
While TDU was fairly happy with being an arcade racer, TDU2 seems to have some trouble finding its racing identity. The game is neither a good sim or an enjoyable arcade, which leaves the players with frustrating controls and glitchy physics. The handling model feels too loose at lower speeds with high performance cars, but becomes stiff with slower cars or at higher speeds. It can be a frustrating experience at times, but after a while becomes manageable enough to get on with the game. There are three basic levels of steering assistance, but they also feel mis-configured and even the manual settings don't often help.
Comments
blog comments powered by Disqus