Shattered Dimensions Review
The latest Spider-Man title is a linear, combat-heavy romp with four distinct "dimensions", which do little to break up the overall monotony of the game
Posted by Daniel Aaron (Kain637) on Jan 19, 2011 - 4:25pm EST (Jan 19, 2011 16:25)
---
When I was a bit younger, there was an extended period of time when I got really into Spider-Man comics. Slowly but surely, I found myself becoming a huge fan of this particular super-hero, especially a few years later when his adventures were part of my regular TV viewing. Over time, however, I'm afraid my enjoyment of Spider-Man has dwindled somewhat, and unfortunately the newest game release featuring this hero, Shattered Dimensions, has given me little reason to renew my interest in the character. Not to jump the gun here, but I feel what enjoyment I did retain from this title was based more so on fond memories of when I was more of a die-hard Spider-Man fan, and I'm not sure it has quite the general appeal that a game like Batman: Arkham Asylum has.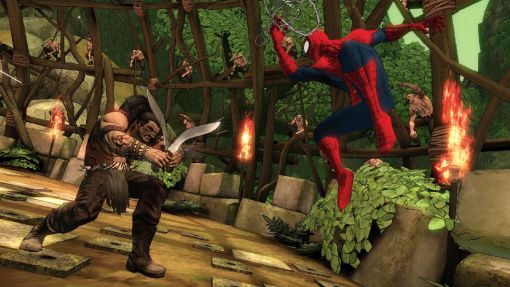 To start off on a more favorable note, though, one thing that does stand out for this game is the visual style. Overall the game takes on the appearance of a cel-shaded, "Saturday morning cartoon" look, especially where the "Amazing" and "Ultimate" dimensions are concerned. The other two dimensions retain this look for the most part, but also have a little bit more individual distinction. The "2099" dimension, for instance, hosts a sort of futuristic, cyber-tech look, filled with massively tall buildings and flying cars, whereas the grittier, 1930s era "Noir" dimension, uses a combination of black and white and muted sepia tones.
The sound design is solid in some areas, but a bit grating in others. To start with, the music is okay, though not really terribly memorable, outside of maybe the more commonly heard themes like the main menu and your upgrades/challenges menu. Sound effects are also pretty good, but again nothing that really stands out any more than other current-gen titles. Where the sound design fails horribly are the voice-overs, the main problem being that no one ever, ever, shuts-up. It's far too repetitive, and while at first I found Spider-Man's quips fairly clever and amusing, by the end of the game I really could hardly stand it.
| | | |
| --- | --- | --- |
| | Comments | |
blog comments powered by

Disqus