Enslaved Review
Ninja Theory's latest adventure is no monkey business. A memorable odyssey through a post apocalyptic world unlike any other
Posted by Ally Doig (TheLazyPerfectionist) on Oct 20, 2010 - 8:47pm EST (Oct 20, 2010 20:47)
---
When we think of post apocalyptic settings and locales our minds are implicitly drawn to images of barren wastelands or dilapidated cities enveloped in darkness. UK based developers Ninja Theory have approached a typically desolate portrayal of global disaster with an emphasis on beauty over traditional themes of bleakness and devastation. Enslaved is predominantly set in a future New York, where vegetation has reclaimed the urban sprawl of concrete and steel. Think the Hanging Gardens of Babylon more the Blade Runner, and you're closer to envisioning Enslaved's environmentally lush setting; though the skeletal remains of a once populated metropolis are still evident. Ninja Theory's approach to a post apocalyptic game world is certainly refreshing, and acts as the perfect stage for a title driven by developing character relationships and an engrossing storyline. The fact that your surroundings demand such a degree of attention, provides momentum for the game's strong narrative; for the most part making Enslaved a compelling experience.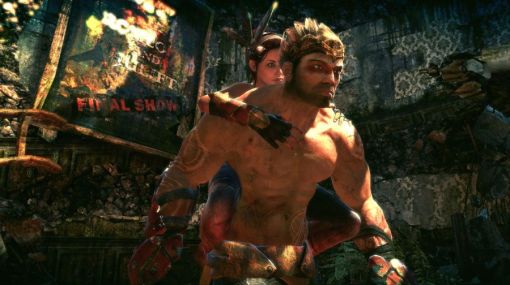 Ninja Theory have kept the cast list intentionally small here, and focused on the relationships between three main protagonists: 'Monkey', whom you control ( an incredibly athletic orphan - hence the name - with unprecedented strength and unique combat skills), his captor/releaser, the seemingly vulnerable 'Trip', and later in the game the lascivious but essentially likeable 'Pigsy'. There's no real back story as to how the world has become the way it has; but the mechanized foes which inhabit it initially hint at a Terminator-esque uprising, leaving very little trace of human life. It's beneficial with a game like Enslaved to only outline the basic premise of the story, as you'd really be doing yourself an injustice by spoiling the journey with foregathered information. Although influences are plain to see (the climax could well read like a page from a certain Wachowski brothers script); Enslaved is by no means an unashamed duplication of post apocalyptic existence depicted in cinema and alternative videogames.
Although it won't win a stack of awards for originality either, the flourishing relationship between Monkey and the homebound female Trip is an endearing and enchanting one. The two are thrown together after escaping the flying 'Slave Ship' at the game's beginning, and their initially reserved companionship (albeit slightly predictably) soon develops into something more meaningful. The two are bound together during Trip's initial search for her father before the hunt turns towards an entity known only as 'Pyramid'. Further discovery reveals this elusive anomaly to be connected to current state of civilization and human disappearance en masse. It's a touching journey, and one that certainly inspires a sense of player/character bonding. When videogames attempt a degree of sensitivity the results can often be woefully crass and unintentionally embarrassing, but this genuinely isn't the case here. The introduction of Pigsy injects a dose of humour, and although he's a slightly contrived caricature, his blatant jealousy of Monkey and Trip leads to some welcome comic exchanges between the two males.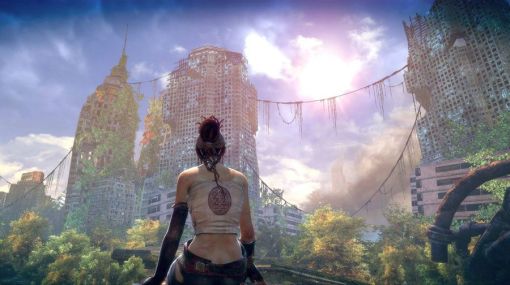 This sustained intrigue, to an extent carries the somewhat unadventurous gameplay of the title. The core experience is split up into two main mechanics; combat and platforming. You would have to use the term 'platforming' in the loosest possible sense however. Similar to say Uncharted 2, the sum of the actual challenge is no more than simply holding jump and the desired direction in which you would like Monkey to go. Falling to your death will be a rare occurrence as it is actually nigh on impossible to do so. Unlike a Tomb Raider title where miscalculated leaps of faith or a trusting a poorly rooted handhold will lead to an early grave, Enslaved will never force you into a scenario heavily reliant on trial and error. Shimmering pieces of masonry tactfully prod you in the right direction of your next jump, the only occasional hindrance occurring in the form of brief blasts of flame or jets of scolding steam. Traversing around from A to B may be a simple affair, but because of the sheer amount of climbing/leaping/swinging etc… you'll be asked to perform; it's thankful that the system isn't clunky or frustrating, albeit it that it requires minimal skill.
| | | |
| --- | --- | --- |
| | Comments | |
blog comments powered by

Disqus