Brutal Legend Review
Get your axe ready, it's time to rock
Posted by Alex V (SpectralShock) on Aug 21, 2010 - 3:05pm EST (Aug 21, 2010 15:05)
---
The game does offer an online multiplayer component, but at this point it becomes a total strategy game. So if you didn't like the stage battles, online play should be avoided. All of the races from the game are available for online play, though expect the overpowering factions to be dominating the battles. If RTS on consoles isn't your thing, there is nothing else to do online, and no coop or third person action to be had, which seems like a missed opportunity. The map selection is decent and maps are fairly well balanced, though there are not that many players online. Both ranked and unranked matches are available, but the latter is almost completely devoid of player population.
One of the most unique aspects of the game is the presentation. Eddie's transported in a very detailed and interesting world based on Heavy Metal imagery. Everything from rock formations, to grass valleys, to animals you encounter – all somehow borrow from the created imagery, resulting in cool and varied locations and enemies. But what would a game like this be without some good tunes? When Eddie is in his car or during the stage battle, tons of classic rock and heavy metal tracks blast through your speakers. There are some amazing acts and top songs in the game, all sure to provide a great atmosphere. A noted omission, though, is that there is no music when Eddie is simply roaming around the world without his car.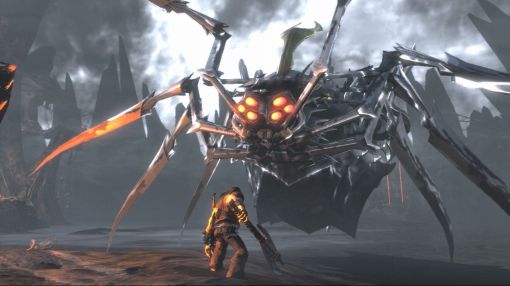 Like the environments, the characters are also designed and voiced with a certain style and finesse. From Eddie himself, to his friends and enemies, the characters look fairly unique and oftentimes goofy, but often preserve the Heavy Metal style of the game. The voice acting is done well, with Jack Black and Co putting on a good performance overall. The animations are good for the most part, with some very subtle facial expressions and poses that look very amusing. Technically, Brutal Legend looks good for its somewhat cartoony style, though there are some small texture problems and sound glitches, though the game runs without any framerate issues.
Brutal Legend may not be the brilliant game some hoped for, but it is still a fun experience in a unique environment. The third person action remains enjoyable if simple, and roaming in an open world means there will always be things to find and locations to discover. The RTS stage battles take some practice and may definitely prevent some fans unfamiliar with the genre from enjoying the experience. But, the battles are at least done well with a variety of units and the unique ability to jump into battle for yourself and help turn the tide with some devastating special attacks. The world that Eddie finds himself in is unique, well presented, and the game's characters and soundtrack only add to this rocking experience. If you enjoy basic third person action with a twist, some heavy metal music, and can get past the RTS aspect of the game without frustration, then the game is well worth your time.
Our Rating for Brutal Legend

81

Presentation
A very unique world with good atmosphere, characters and enemies. A definite blast of a good time for heavy metal and rock fans looking for a world to call their own.

70

Gameplay
The open-world gameplay is a fairly simplistic hack and slasher, while the RTS battles are bound to frustrate some players. It's an odd combination of gameplay styles that will likely irritate both action and RTS fans at some point.

77

Single Player
The story is of decent length with some nice twists, but it is nothing new. Characters and locations are unique and well presented.

69

Multiplayer
For RTS fans only, the online play consists solely of stage battles. All of the factions from the game are available to the players, and the map selection is decent.

85

Performance
The game runs at a very solid framerate, with only a few texture problems and the occasional bug

74

Overall
Brutal Legend presents a unique setting, but with gameplay unable to decide between action and strategy, it's difficult to recommend to either genre fans.
| | | |
| --- | --- | --- |
| | Comments | |
blog comments powered by

Disqus