Are You Gonna Finish That?
A game is perhaps one of the few things that many of us never end up sticking with to its completion
Posted by Peter Ingham (Nechrol) on Jun 3, 2010 - 8:48pm EST (Jun 3, 2010 20:48)
---
A game is perhaps one of the few things that many of us never end up sticking with to its completion. We'll finish a meal until we're satisfied or unable to cram another sweet piece of cake into our already bursting gullets. You don't go into a restaurant and pay for a three course meal but then decide as they are bringing out the dessert you don't want it. You eat the dessert. You don't run out of the place with your hands clamped over your ears whilst blindly knocking over the waiter in a panic.
So why then do some of us decide that after putting X amount of hours grinding, collecting items and completing quests that the game just isn't doing it for us? There are many reasons I believe and the food analogy works a treat.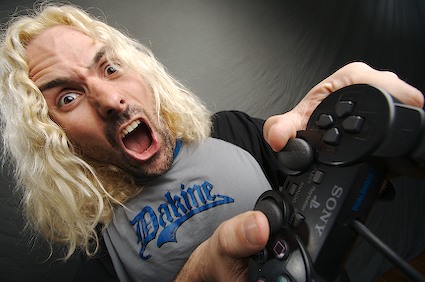 It may be that halfway through your meal (game) it's going well, the food isn't great but hey you paid for it so shovel it down and shut up. Then, from round the corner someone brings out something that looks, and tastes infinitely better in your eyes. Do you finish the meal, one bitter mouthful after the next, or do you discard the garden salad (Final Fantasy XIII) and chow down on a burger (Dragon Age: Awakening)?
The burger all the way in my case, it tasted better, I finished it and felt satisfied after gorging myself on it. The salad just couldn't sate my gaming hunger.
We don't always leave games to collect dust because they are in some way particularly bad either. I played Final Fantasy VII back in the day and put over 80 hours into the game and then, just stopped. I'm not even sure why. Perhaps a shiny object got caught in my periphery and I spent the next few months staring vacantly at it until my brain turned to yoghurt. It was most probably the fact I was an annoying ten year-old at the time. I had been hyped up on so many E-numbers and chocolate milk nothing could hold my attention so I ran around until an enforced 'time-out'.
| | | |
| --- | --- | --- |
| | Comments | |
blog comments powered by

Disqus
| | |
| --- | --- |
| #8 Jun 17, 2010 17:15:01 (Jun 17, 2010 17:15) | |

kamikaziechameleon

Since I started working 50 hours a week with 2.5 hours of commuting every day I've developed a love for games to be shorter and more polished, filler wastes my time and dollars. If a game is 20 hours long with no filler great but that is never the case(GTA I'm looking at you)

| | |
| --- | --- |
| #7 Jun 7, 2010 20:10:07 (Jun 7, 2010 20:10) | |




SpectralShock

Kamikazie, that is because the GRAW games were made as totally different on PC and consoles. Different engines even.

| | |
| --- | --- |
| #6 Jun 7, 2010 09:25:57 (Jun 7, 2010 09:25) | |




kamikaziechameleon

@Nechrol

R6 1-3 where all good, but haven't had a taste for a single one since vegas had a good premise but was pushed out prematurely.

@SpectralShock

GR on pc was 50X better than on 360 I have both. The 360 AI is worse and you can hand hold it or control it in any meaningful way. The Co-op is also way worse.

Starting prototype, lets see if I finish it ^_^

| | |
| --- | --- |
| #5 Jun 5, 2010 05:07:51 (Jun 5, 2010 05:07) | |




Nechrol

I used to love the old Rainbow 6, had one ages ago on the PC with a 32bit graphics card. Where you could choose the massive armour which looked like your team had mattresses strapped to their bodies.

I also had the rainbow 6 on the Xbox...mulitplayer was one of the best gaming experiences in my mind...nostalgia

I still never finished Oblivion even though it was one of the best games I played...rinsed all the side quests then just left the main story...maybe because I found it boring

| | |
| --- | --- |
| #4 Jun 4, 2010 22:30:18 (Jun 4, 2010 22:30) | |




| | |
| --- | --- |
| #3 Jun 4, 2010 09:09:24 (Jun 4, 2010 09:09) | |




kamikaziechameleon

only don't finish a game if I hate it in the first few minutes. Even then I will finish many games I hate if they get good reviews, for example I finished Ghost recon advanced warfighter, horrible game but I felt that since it garnered great Reviews it must have a gem of decency some where, but it didn't.

| | |
| --- | --- |
| #2 Jun 4, 2010 00:02:32 (Jun 4, 2010 00:02) | |




nutcrackr

I try to finish all games I own, even some that I don't like. Not recently but some old games were too hard and I don't enjoy cheating. There are a handful that remain uncompleted and probably will remain that way.

| | |
| --- | --- |
| #1 Jun 3, 2010 20:57:08 (Jun 3, 2010 20:57) | |




SpectralShock

Excellent point, I got a few games laying around that I never got to finish ;(