Mafia 2 Preview
Mafia II comes off stronger than its predecessor and works hard to differentiate itself further from the open world king, Grand Theft Auto
Posted by Christian Sorrell (sirdesmond) on May 6, 2010 - 3:43pm EST (May 6, 2010 15:43)
---
It was from this point on that I really started getting excited about what Mafia II was offering. As a gangster living in this realistic world, you have to know when to act like a stand-up citizen and when to get down to business.
After finding the phone, there was a man inside the booth talking on the phone. I waited for a moment but he kept talking. In this situation in real life, a normal citizen would simply wait until the man in the booth was finished, but I was coming into the game with a more Grand Theft Auto mindset. I pulled the man out of the booth, threw him down onto the ground, and gave him a swift kick to the side. He got up and a brawl ensued across the bustling city sidewalk. Citizens ran off in all directions while one woman quickly directed the nearest policemen our way.
The cops ran up with their batons and I, looking to get into a bit of trouble, pulled my revolver and quickly pumped a round into one policeman. The shot hit him in the head and he quickly slumped to the ground. The guns felt powerful and realistic. Unfortunately for me, the remaining cop pulled his pistol and sent a round in my direction, clipping my left arm. I felt it, both in my character's movement and in his health bar. Where you can normally take 10 or more rounds in many games, I felt like I could go down after as little as three shots which was actually a very refreshing change of pace. It added a lot of tension to all of the altercations between the player characters and enemies (police and mobsters alike).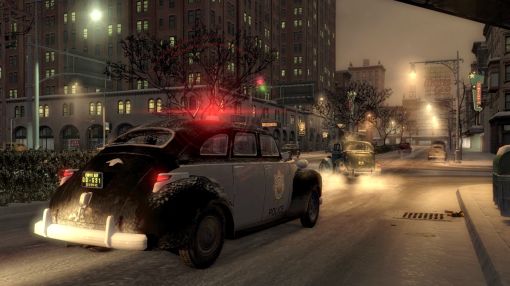 I proceeded to steal a police car, go on a high speed chase (or two), and get both my partner and myself killed. The whole time it felt tense as if I only had a slight advantage over the police and that even the citizens would, from time to time, be out to get me if they had a chance. It was an absolute blast.
My time with Mafia II was very much a breath of fresh air. Where Red Dead Redemption takes the Grand Theft Auto mindset and moves it into a different world, Mafia II keeps many of the aspects of the modern and open world but severely alters the mindset, forcing you to act less like a mad gunman and more like a made man operating in a society that values laws, morals, and justice above the personal greed you are exhibiting throughout the story. Playing the part of the straight citizen while smuggling contraband or making your way into an apartment building preparing to whack a mark to death with a baseball bat is absolutely riveting and made me feel more like a criminal than any of my experiences throughout the Grand Theft Auto series. 2K Games, you've got my attention and I want in. I want to be a made man.
| | | |
| --- | --- | --- |
| | Comments | |
blog comments powered by

Disqus