Final Fantasy 13 Review
Final Fantasy XIII is a good, not great, experiment in taking the JRPG to a new direction with its fancy strategy-based battle system, but man does it take forever to open up
Posted by gooster on Apr 28, 2010 - 5:18pm EST (Apr 28, 2010 17:18)
---
I have the most peculiar on-again, off-again relationship with not only the Final Fantasy series, but the JRPG sub-genre as a whole. Final Fantasy XIII did not sit in a personal list of highly anticipated titles. I never finished Final Fantasy XII, released in 2006, despite having devoted nearly 35 hours into a game that practically played itself. I do, however, join fellow geeks in fondness of the two treasures of the 16-bit era: Final Fantasy IV and VI. Every spring, however, I am in the mood for a game in a genre that is crippled by a lack of progress, a genre where the East once reigned supreme, but now munches on the dropped leftovers of success enjoyed by studios such as Blizzard, BioWare, and Bethesda. Final Fantasy XIII enters the market in an attempt by studio Square Enix to keep the JRPG alive and interesting at the risk of alienating dedicated fans.

The story begins in a world called Cocoon, led by a theocracy known as the Sanctum, where its inhabitants are forced into trains if they are suspected of being agents of Pulse, a supposedly dangerous world of malice. Cocoon and Pulse are creations of the fal'Cie, a machinelike race that warred with one another in an event known as the War of Transgressions. Through these events, the six heroes of the game come together, each with their own personal stories, and face a destiny of surviving after being marked as "l'Cie" and must now fulfill a certain goal, or "Focus." L'Cie are seen as enemies of Cocoon and is considered a cursed ritual in whether an individual fulfills his or her Focus or not, as the punishment and reward are one and the same.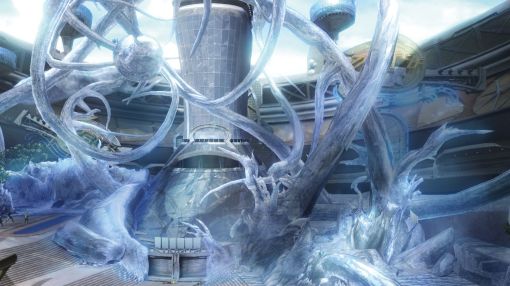 The very core of FF13, in addition to its storytelling, lies in the new battle system known as Paradigm Shifts. Characters in a party can be assigned multiple roles in combat, and allows the player to form a strategy against enemies with very different weaknesses. You can create a shift dedicated to healing, or defense and buffing, or pure aggressive combat, or any mixture of them. The leader of the party has Active Time Battle slots that allow the player to set a number of chained combos in their current Paradigm to their own liking. If you don't feel like thinking about it that hard, you can instantly hit the Auto button and the game will choose the best pattern based on the current Paradigm that will benefit the player the most or to the most damage to the current enemies. While the player is in battle, the goal of each fight is usually to fill an enemy's chain meter to cause them to Stagger. Once an enemy is in Stagger mode, the player can launch a strong offensive and do more damage as the enemy sits idly by and takes the hits. Despite the option to put battles on autopilot, the challenge of thinking fast on your feet is a welcomed one. At the end, the player is rated based on how long he or she was in battle and how often Paradigms were shifted. They also earn Crystarium points that are spent on adding more Hit Points, increasing strength, or learning new moves for a particular role, such as the Commando, who makes use of physical attacks, or the Saboteur, who launches status ailments on enemies.
Trying to figure out new, better strategies feels refreshing, especially as you try to decide where to spent Crystarium points and long to try out new spells or attacks. Should your party fail, the game is obviously over, but you can simply hit the Retry command and start over. There is no returning from the last save point from the last town, because as you may have heard, there are none.
| | | |
| --- | --- | --- |
| | Comments | |
blog comments powered by

Disqus
| | |
| --- | --- |
| #6 May 5, 2010 13:53:48 (May 5, 2010 13:53) | |

gooster

Thanks for the positive feedback, everyone. I'm actually curious for the direction Square Enix will take for FF15. Playing FF13 is a personal reminder for me why I usually give JRPGs a quick glance, but actively anticipate games like Mass Effect 2, or even Fallout: New Vegas.

| | |
| --- | --- |
| #5 May 5, 2010 02:21:15 (May 5, 2010 02:21) | |




sirdesmond

Nice to see this receiving a realistic and thoughtful score rather than simply dropping a 90 on it after reading Final Fantasy on the box.

Truthfully, I have long since been over the Final Fantasy series and Japanese developed games for the most part (except Monster Hunter Tri, of course). I just don't see the innovation coming out of Japan that we see on such a grand scale coming out of Western developers.

| | |
| --- | --- |
| #4 May 4, 2010 14:11:43 (May 4, 2010 14:11) | |




kamikaziechameleon

the art design while beautiful is very inconsistent. This seems to be a increasing problem in games where the word Theme seems to be missing from the designers vocabulary.

| | |
| --- | --- |
| #3 May 4, 2010 11:02:02 (May 4, 2010 11:02) | |




Nechrol

I devoted over 112 hours to FFXII and could have finished it after doing just about everything but for some reason I just gave up. Didn't care for the story or characters too much but I'll always buy them.

The only game that came in close on play time would be VII...about 95 I think

| | |
| --- | --- |
| #2 Apr 30, 2010 07:41:47 (Apr 30, 2010 07:41) | |




kamikaziechameleon

I really want to try this game since I've never played, only watched people play FF games. I will say the 20 hour tutorial sounds like a drag though. The fact that this game shamelessly linearized the experience of the player really negates the RPG experience. Sad to see JRPGs haven't meaningfully evolved since FF7. I also heard from friends how HORRIBLE the dialogue story and characters are for the first 10 hours. A issue such as characters don't have personality they are just cut outs ie brave, wimpy, black etc. really hurts any story they want to tell. and so does the Jpop

| | |
| --- | --- |
| #1 Apr 29, 2010 16:20:56 (Apr 29, 2010 16:20) | |




Phatcat1987

Excellent Review Gooster.

I agree with just about every point that you made, and best of all you weren't afraid to give it a score that the fanboys would cry over(unlike IGN).

I'm currently about 18 and a half hours into the game, and the long stretches of hallways are driving me nuts. The game has some truly shining moments (such as Hope's house siege) but it just feels like these hallways were thrown together due to either time constraints(but they had 3-5 years i thought?) or merely a lack of creativity.

It seems like the designers were banking on the battle system to carry the game through to the end, but the problem is, if you force players to grind(even though it's potentially necessary) that takes the battle system's novelty away. It's frustrating to spend 30-45 minutes in the same (and most of the time, bland) congested hallway just to get to the end.

I agree that this may be a necessary game (or in some points of view, a loss) for future success. I hope Square Enix learns from their mistakes, and perhaps takes a page out of BioWare's book, and listens to their consumers. It's frustrating to see a company be so arrogant with their product when they themselves carry the most bias on the quality of their product.

Cheers to the hopeful greatness of Final Fantasy XV (since XIV will be a multiplayer MMO)